Jundushan Ski Resort

Chinese name: 军都山滑雪场 (Jun Du Shan Hua Xue Chang).
Location: Beijing Jundushan ski resort is located 35 kilometers to Beijing city, it is 5 km north to Changping village.
Admission fee: RMB160/p.p per day or RMB120/p.p for half day (ordinary day, daytime only, 2011). On weekend, price is upper to RMB360/p.p for a whole day, and RMB180 for a half day. During national vacations, it will be RMB380 (whole day), RMB240 (half day), and RMB100 (evening time).
Opening time: 08:00 – 18:00, and 17:00 – 22:00.
How to get there:
- By bus: Option 1 is taking the No. 345 bus - tributary line at Beijing Deshengmen, then get off at Dongguan stop at Changping village, transfer line 21 to Cui village and get off at Zhenshun village, walk for about 10 minutes, you will finally see the Jundushan Ski Resort.
- By metro: Take the No. 13 city metro then get off at Longze then continue taking public bus line 21 as mentioned above.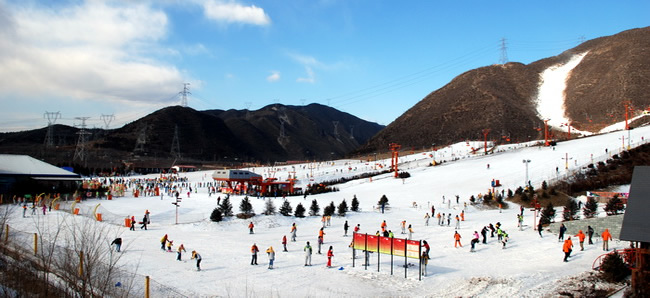 Introduction of Jundushan Ski Resort:
The Jundushan Ski Field is over 150 thousands square meters; it was built strictly based on the international ski resort standard and in consideration of the physique for Chinese, the different skiing trails (for beginners, secondary and advanced ski trails) are totally over 4000 meters.
Over 20 intermediate slide rails with different gradients offers the experienced sliders chances to enjoy themselves to the full: the relative fall is 247 meters on the advanced rail, the maximal gradient of the advanced slide rail is 40%. Besides the basic rails, Jundushan Ski Resort has 2 cable car lines, 1 magic carpet and 8 special lines for equipment transfer cars and over 3100 sets of imported ski equipments. The capacity of Jundushan Ski Resort is 6000 people per day as the whole manage system there is high-tech and sufficient.
Map of Jundushan Ski Resort