Beijing Zoo

More Photos

Chinese name: 北京动物园 (Beijing Dongwu Yuan).
Location: to the west of Beijing Exhibition Center, on Waidajie Street, Xizhimen, Xicheng District, Beijing City.
Opening time of Beijing Zoo:
- April to October: 07:30-18:00;
- November to March of next year: 07:30-17:00.
Tickets information of Beijing Zoo:
- Full Price Ticket: CNY15 (April-October), CNY10 (November-March of next year);
- Coupon Ticket for Chinese students of primary schools, middle schools, colleges, and foreign students (not including postgraduates, those at adult education colleges and spare-time colleges) with valid documentation: CNY8 (April-October), CNY5 (November-March of next year).
Remarks:
1. Tickets are valid on the purchase day only;
2. Those with coupon tickets should show their valid documentation when entering, or else the discount will be canceled;
3. If those with coupon tickets want to visit some attractions (such as the Beijing Aquarium) in the zoo, they should buy a ticket accordingly.
Ticket and opening information of Beijing Aquarium (in Beijing Zoo):
- Ticket price: CNY130;
- Time of ticket sales: 10:00-16:00;
- Opened at 09:00-17:30 from April to November (no entry after 17:00);
- Opened at 09:00-17:00 from November to march of next year.
Cruises including ticket of Beijing Zoo:
1. Route one (single-trip): Ferry Pier of Beijing Zoo – Wai Nan Men Ferry Pier of Summer Palace;
2. Route two (round-trip): Ferry Pier of Beijing Zoo – Zi Zhu Yuan Park.
- Sailing time & date: 10:00-16:00 from April to October every year.
- Ticket: CNY40.
How to get to Beijing Zoo:
- By subway Line 4 (M4);
- By bus No. 7, 15, 19, 27, 45, 65, 87, 319, 332, 334, 347, 360, 362, 534, 563, 608, 614, 632, 685, 697 or 714;
- By trolley bus No. 102, 103, 105, 107 or 111.
Brief Introduction to Beijing Zoo
Being the biggest urban zoos of China nowadays, Beijing Zoo was once an imperial garden in Ming Dynasty (1368-1644) and was reconstructed to be the private garden of Fu Kang'an, a kinsman of the emperor, and named after "Sanbeizi Garden". In 1906 (Qing Dynasty), the garden was developed to be a zoo attached to the Experimental Farm and was opened to the common in the next year, which started the history of modern zoo of China.
The zoo was repaired and expanded and changed to be Park of Western Suburb of Beijing after the founding of P.R. China in 1949. With its current name used since 1955, Beijing Zoo has an area of 500,000 m2, on which specialized houses are built for various animals from all over the world, e.g. giant pandas, elephas maximuses, panthers, snub-nosed monkeys, albino tigers, crested ibises, red-crowned cranes, Chinese alligators (or Yangtze alligators).
As the oldest zoo with most rare animals in China, Beijing Zoo are feeding and exhibiting more than 20,000 animals of over 900 varieties, receiving more than six million visitors annually.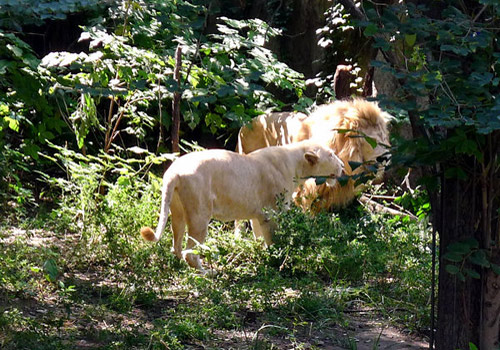 Main Animal Houses of Beijing Zoo
- Lions and Tigers Mountain
Being one of the landmarks of Beijing Zoo, this house located on the eastern side is as a matter of fact where many large felines such as African lions, White lions, Manchurian tigers, panthers and pumas live. The characteristic of the house is its mountain-like appearance and cave-like inside. Such architectural arrangement not only provides natural visual effect but also an ingenious way to stop winter cold wind blowing into the interior exhibition area directly. Over the past days when camera was an article of luxury in China, it was a must-do for many people to take a photo in front of the Lions and Tigers Mountain.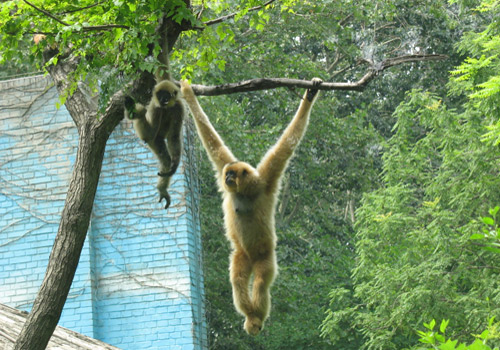 - Monkeys Mountain
The former site of the Monkey Mountain is the oldest among all existing animal houses of Beijing Zoo. It is sunken style with two artificial hills in the center, which are connected by rope ladders. In 2007 the site was closed and protected due to the construction of viaduct, and the new site has now been completed and opened.
- Bears Mountain
The Bears Mountain for bears in Beijing Zoo is built in 1952 with an area of 4275 m2, comprising the black bears house and the white bears house. For the same reason in 2007, the former black bears house was dismantled but the white bears house is still opened now, with brown bears and black nears being raised there. The new Bear Mountain has been completed as well.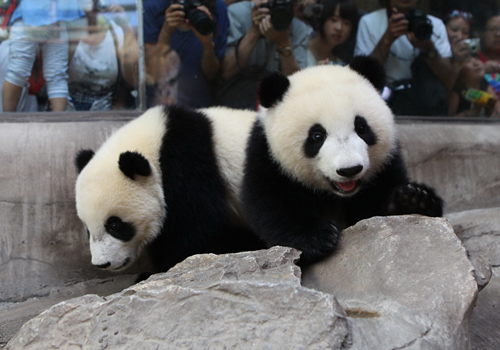 - Giant Pandas House
The existing Giant Pandas House of Beijing Zoo is built as part of celebrations of the 11th Asian Games hosted in Beijing. It occupies a floor space of some ten thousands m2 and the main structure presents a shape of twining bamboo joints which made it one of "10 Great Buildings of Beijing" of the time. In the house there are three public exhibition rooms; at the top of the hall 12 big balls made from glass fiber reinforced plastics are hung to adjust sound effect inside the room; functional rooms of the house are semi-underground and activity space for pandas are set outdoor with wooden roosts and simple entertainment equipments.
- Medium-sized Beasts Zone
The old Medium-sized Beasts Zone is located at the northern side of the Bears Mountain, once exhibiting Amur leopards, snow leopards, clouded leopards, panthers, lynxes, etc., and was closed in 2007. The new site is completed and opened in Ocotober of 2010.
- House of Rinoceroses and Hppopotamuses
Constructed between 1992 and 1994 on the northern bank of the Chang River (长河), this house is home of white rhinos, rhinoceroses unicornis, hippopotamuses of Bejing Zoo, equipped with restaurant.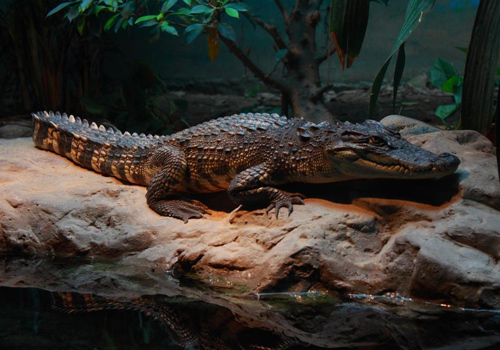 - Amphibious Reptiles House
The Amphibious Reptiles House was completed in 1979 with an area of 4345 m2 and was once a house with best facilities at Beijing Zoo. It was designed with many functional zones with more than 90 exhibition rooms, with the room of Yangtze alligators being the largest and that for snakes being the smallest.
- Elephants House
Several years younger than the House of Rinoceroses and Hppopotamuses, the Elephants House exhibits elephas maximus and African elephants at its eastern and western sides respectively. The old Elephant House was located on the northern side of the Monkey Mountain and was once well-known in 1970s for an elephant presented by Mrs. Bandaranaike, former President of Sri Lanka.
- Giraffes House
With a history since 1957, the Giraffe House sitting westernmost of Beijing Zoo is a European-style building with pinnacle. The house is divided to be seven rooms and people can visit giraffes at a close distance.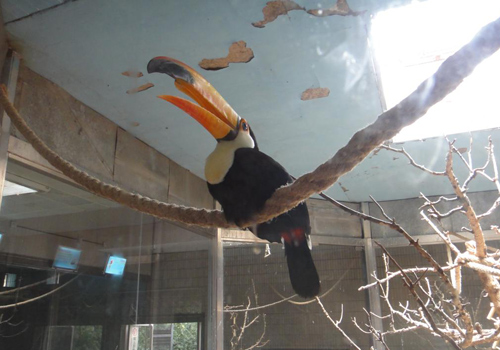 - House of Pheasants and Brood Chamber
Built in 1983 on the eastern side of Beijing Zoo, the house is where various birds such as South American parrots, great bustards and condors live. Some of the rooms of this house were changed to be brood chamber to show visitors the process of manual feeding of primates.
- Otter House
The Otter House of Beijing Zoo is set up with subvention of U.K. and Australian Embassies in Beijing.
- Gorillas House
The new Gorillas House of Beijing Zoo was opened in 1987 with a floor area of 8000 m2, including the house itself and the outdoor playground. Inside the house there are hill stones and roosts for gorillas' everyday activities and the background is the mural showing their outdoor life.
- Nocturnal Animals House
This house was formally opened in November of 1988. It is a rectangular building in which small-sized nocturnal omnivorous animals live. From 08:00 to 17:00 every day special light is used to model night circumstance so that people can observe the life of these animals clearly.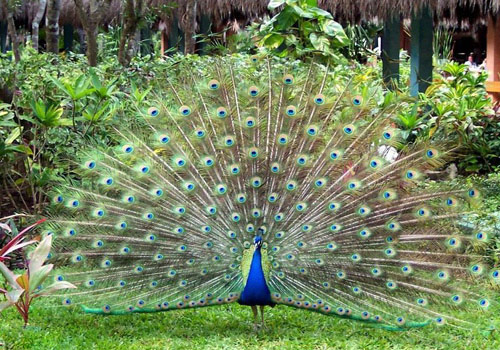 - Other houses
Golden Monkeys House, Penguins House, Langurs House, Gibbons House, Tropical Monkeys House, Tapiridaes House, Crested Ibis House, Flamingos House, Small Animal Club, Museum of Science Popularization, Beijing Aquarium, and so on.
Quick Questions
Our team is waiting for your questions. Please feel free to ask us any questions you might have about our China package tours, Chinese culture, or the sites available. We will gladly help you with any special needs you might have and all questions, like our trip designing is completely free of charge.