Beijing WTown

More Photos
Chinese name: 古北水镇
Location: Gubeikou Town, Miyun District, Beijing
Opening time: 09:00-21:00 (tourists staying inside can enter the scenic area at any time to check in)
Best season to visit Beijing WTown: all year round
Recommended time for a visit: 2-3 days

Introduction to Beijing WTown
Located in Gubeikou Town of Miyun District, Beijing WTown (Simatai Great Wall) International Tourist Resort covers a total area of 9 square kilometers. Integrating tourism activities such as sightseeing, leisure vacation, business exhibition and creative culture, it is a comprehensive leisure and vacation destination with first-class services and facilities, high participation and experiential features. The resort has 430,000 square meters of exquisite buildings in the styles of the Ming and Qing dynasties and the Republic of China, including over 10 cultural display & experience areas, 2 five-star standard hotels, 10 boutique hotels, 5 theme hotels, and more than 20 home-stay hotels, restaurants and shops, as well as comprehensive supporting service facilities.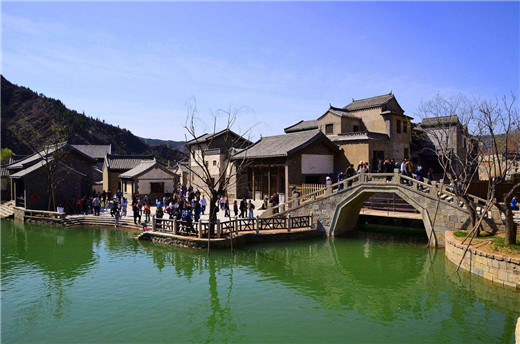 Beijing WTown is backed by the most beautiful and dangerous Simatai Great Wall in China and sits by the Yuanyang Lake Reservoir. It is a rare scenic spot in the suburbs of Beijing that combines mountain, water and comprehensive supporting facilities. Its night scenery is so beautiful that has become a new landmark of Beijing night tour. This northern-style resort town at the foot of the Great Wall enjoys convenient transportation. It is about one and a half hours' drive from the Capital International Airport and downtown Beijing, moreover, it borders Hebei province and is about a 45-minute drive from Chengde city.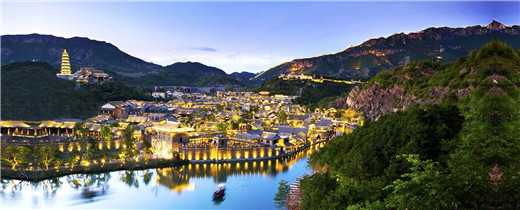 Featured Activities in Beijing WTown
Restoring the old Beijing flavor New Year at Beijing WTown: Beijing WTown was an important place for troops to be stationed in history. Nowadays, the town combines border culture with traditional Beijing New Year customs to offer visitors a unique "WTown New Year" activity with northern China flavors. From flower shows to traditional snacks, it is fully integrated at the foot of the Great Wall, to reproduce the lively and peaceful border customs temple fair, create a different border customs Spring Festival culture, and restore the traditional New Year flavor of old Beijing. Draw New Year pictures, write Spring Festival couplets, cut window grilles, worship the God of Wealth, climb the Great Wall, soak in hot springs, climb mountains and pray for blessings... a variety of activities will bring you a different Chinese New Year. The home-stay is a highlight of accommodation in Beijing WTown. There are more than 20 inns in the town. Landlords here are warm and simple, and will give the customers to spend the New Year here family-like warmth and happiness. Beijing WTown also launches the New Year's Eve dinner at the foot of the Great Wall, where you can make dumplings, have a traditional New Year's eve dinner and stay up for the New Year with your home-stay host.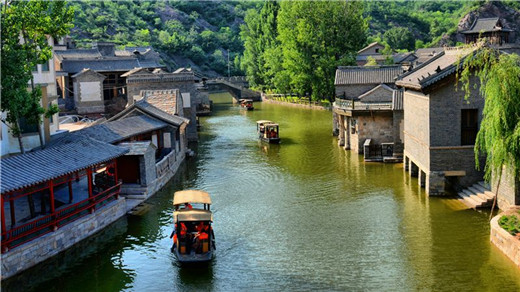 "Christmas Eve" under the Great Wall: singing Christmas poems, lighting the lights of Christmas Eve, Santa Claus sending festive blessings...Beijing WTown is filled with fairy tale flavors. At this night, the town will give you a dreamlike world in the shadow of lights.
Hot spring under the Great Wall: say goodbye to cold and dry, farewell to busy and noisy, it will be a good experience to spend a warm and pleasant holiday in Beijing WTown. The hot spring in the town, which originated from the depth of 3,376 meters underground, has been awarded the hot spring assessment certificate by Japan professional hot spring association. It can wash away the fatigue at work and bring you a relaxing experience.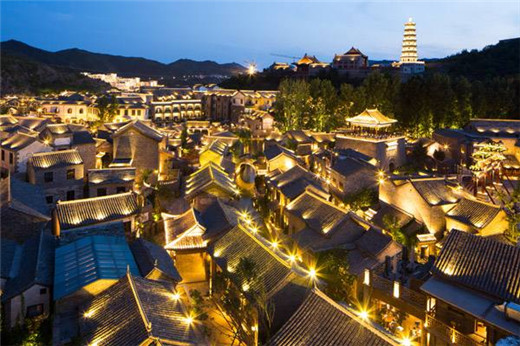 Night tour of Beijing WTown: it is a special experience to overlook the lights of the town on the Simatai Great Wall at night.
Low-altitude sightseeing tour: in Beijing WTown, you can take a helicopter or a hot air balloon to overlook the town, to see the magnificent Simatai Great Wall, and enjoy the ancient and elegant water town scenery.

Main Attractions in Beijing WTown
Simatai Great Wall: the only part of the Great Wall in China that retains its original appearance in the Ming Dynasty. The whole Great Wall is built according to the steep hills, and it is famous for its uniqueness, specialty, and danger. Especially the Wangjing Tower, which is built on a steep peak at an altitude of thousands of meters, has a great view of the city. The Simatai Great Wall was identified by UNESCO as the "original Great Wall". The Times of the United Kingdom in 2012 named it "the top 25 must-see places in the world".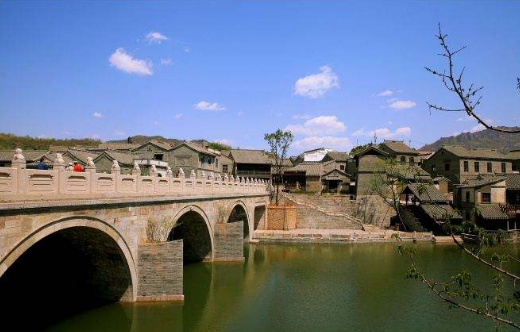 Yuantong Pagoda: Yuantong Pagoda is composed of two buildings, namely, Guanyin Temple and Yuantong Pagoda. It can provide visitors a scene-like experience of living in a fasting room, having a vegetarian meal, copying Buddhist scriptures, and tasting Buddha tea.
Sima Liquor and Spirits: watch the wine making process and experience making dishes with wine lees.
Yongshun Dyeing Workshop: enjoy the original ecological dyeing, the teacher will teach you DIY your own dyeing works.
Eight Banners Hall: Gubeikou Town is located in the throat fortress of Beijing, where was guarded by the Yellow Banner (one of the Eight Banners, an important branch of the army in ancient China's Qing Dynasty). The Eight Banners Hall takes you to understand the folk customs of the Manchus -an ethnic minority on horseback.
Children's Playhouse: covering an area of approximately 3,700 square meters, it is divided into two floors. Children's Playhouse in Beijing WTown is the largest children's entertainment activity center in Beijing suburbs with the most advanced facilities.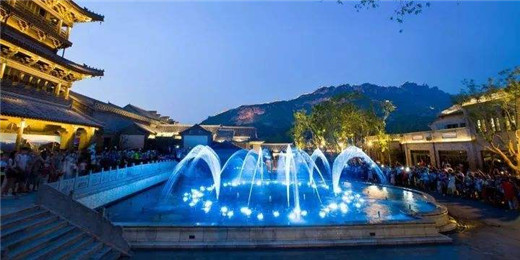 Wangjing Tower Fountains: it is created by the top domestic fountain show company together with the core creative team that participated in the choreography of the Olympic Games dances. The newly developed "virtual reality" fountain control system perfectly matches the water "dancing" movements with the rhythm control of the music. It is an indispensable and important sight for the night tour of Beijing WTown.

Tips on visiting the Simatai Great Wall:
Simatai Great Wall ticket is not included in that of the Beijing WTown. It is located in steep terrain, with low parapet walls and limited tour capacity. In order to protect this valuable world cultural heritage site and ensure the safety of tourists, the scenic area has implemented a reservation system to limit current tours. Therefore, it is recommended that visitors make reservation in advance so as to smoothly visit the Simatai Great Wall at the planned time.
Quick Questions
Our team is waiting for you questions. Please feel free to ask us any questions you might have about our China package tours, Chinese culture, or the sites available. We will gladly help you with any special needs you might have and all questions, like our trip designing is completely free of charge.