Beijing Huaibei International Ski Resort
The Beijing Huaibei International Ski Resort is located 70 kilometers from Beijing's city center, and it has the longest run in the entire Beijing area. The resort encompasses a total area of over 9.6 square kilometers. It is located near the Mutianyu Section of The Great Wall. It is the only ski resort in China surrounded on three sides by The Great Wall.
The resort is open all year around with the ski season beginning in December and ending in early March. The advanced snowmaking system and favorable weather conditions ensure excellent skiing conditions throughout the season.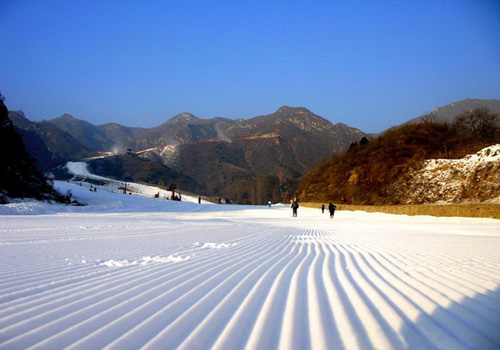 There is one advanced ski trail and three intermediate ski trails at the Huaibei resort. The ski trails at Huaibei International Ski Resort are more than 5,100 meters long, with a drop elevation of 238 meters and the cableway is 1,200 meters long.
The resort is perfect for beginning skiers, or non-skiers. There is a wide variety of snow related activities besides skiing that can be enjoyed. There is snow archery, horse drawn sledding and snowmobiling available. The resort has three cableways which provide a spectacular view of the Great Wall and surrounding mountains. These cableways are popular with visitors whether they ski or not. There are many dining choices at the resort, and ski lessons and ski rentals are also available.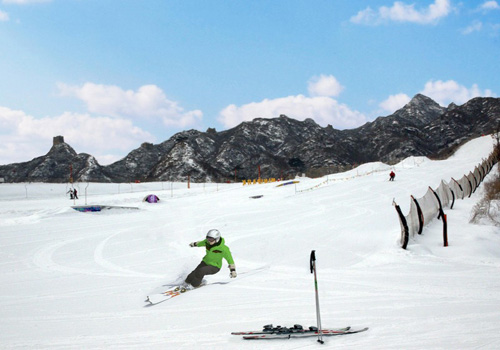 The natural landscape at the Beijing Huaibei International Ski Resort is simply breath-taking. The white snow, extensive glades, blue sky, beautiful mountains, and The Great Wall create a setting that cannot be seen anywhere else in the world.

Huaibei ski resort has all the facilities you can need for a comfortable vacation. You will find many hotels and eateries in the resort. You can also rent the ski equipment and take ski lessons in the resort.