Beijing 798 Art Zone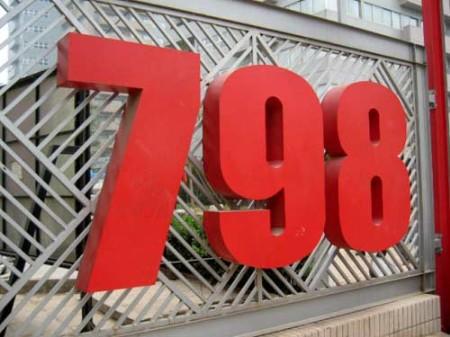 More Photos
Mottled red-brick wall, scattered orderly industrial plants, crisscross pipelines, slogans of different ages on the wall. Uniformed workers and fashion visitors form unique scenery. History and reality, industry and the arts perfectly fit here in Beijing 798 Art Zone.


About Beijing 798 Art Zone
Situated in the 718 factory of Beijing Sevenstar Science and Technology Co., LTD (Jiuxianqiao Road, Dashanzi Area, Chaoyang District), the Beijing 798 Art Zone has a total construction area of 230,000 square meters assembles many cultural elements such as galleries, design studios, art exhibition spaces, artists' studios, fashion shops, restaurants etc. In 798 Art Zone, there are nearly 400 organizations including galleries, artists' private studios, cultural companies like animated cartoon, television media, publishing, design and consultation, which comes from China, France, Italy, Britain, the Netherlands, Belgium, Germany, Japan, Australia, South Korea, Taiwan, Hong Kong and other countries and regions.798 Art Zone has become an exhibition center of Chinese culture and art, and an influential cultural creative concentration area at both home and abroad.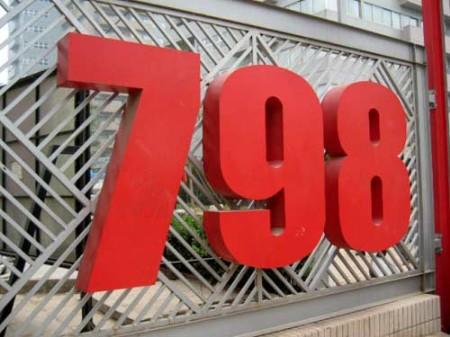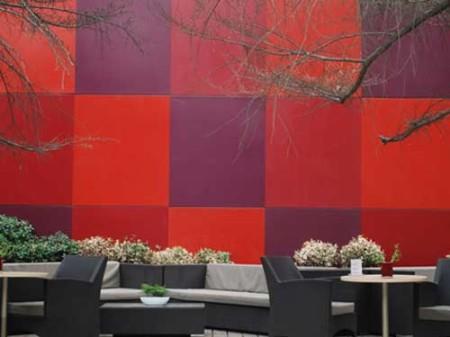 Beijing 798 Art Zone gathers a number of celebrities of art and culture, art institutions and enterprises in fashion. Many important international art exhibitions, art activities and fashion shows are often hold there, which attract many worldwide political leaders, movie stars and social celebrities. Since 2004, lots of celebrities have been to 798 Art Zone, including Prime Ministers from Sweden, Switzerland ,and Austria ,ex-prime minister from German (Schroeder), the president of European Union(Barroso), the Queen of Belgium, the former UN Secretary General Kofi Annan's wife, French ex-president Chirac's wife, Norway Prime Minister's wife and Belgium Crown Prince. Besides, countless famous international enterprises like Sony, Motorola, West Wasted, Dior, Omega, BMW and Chinese Yahoo, had made promotions there.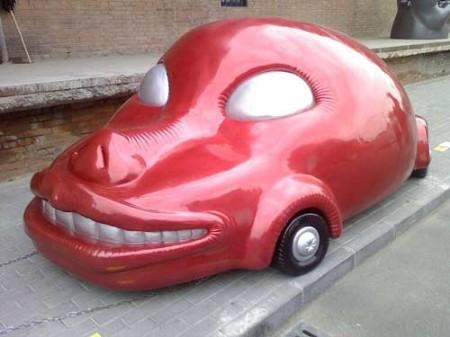 A head-like model car in the Zone
In 2006, Beijing 798 Art Zone was listed respectively as one of the first concentrations of cultural creative industry by Beijing Civic and Chaoyang District Government, also named as "Beijing 798 Art Zone Cultural Creative Industrial Base of Zhong Guan Cun Electronic City" by Zhong Guan Cun management committee. The atmosphere as a "creative zone, cultural park" is forming, In order to boost the prosperity and development of 798 Art Zone, Chaoyang District Government and Seven Star group co-founded the Beijing 798 Art Zone Development and Administration office, with the principle of "coordination, service, introduction, management", to boost the development of contemporary art and culture creative industry in art zone.

International Activities in Beijing 798 Art Zone
Beijing 798 Art Festival:Hold from the end of April to the end of May, focusing on exhibition and communication of culture and art.
Beijing 798 Creative Art Festival:Hold from the end of September to the end of October, focusing on exhibition and communication of culture and art.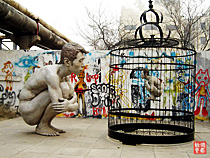 Statue opus in the Zone: A man who looks at another "him" inside the cage
In the future, the 798 office will attract more famous artists and art organizations from home and abroad according to the instruction policy of "protection, exploration, stability, development", to build Beijing 798 Art Zone as the center of the exhibition and trade of culture and art, as the most unique and influential cultural creative industry basement in Beijing and the worldwide cultural creative industry park.

What to Enjoy in the Beijing 798 Art Zone?
Centennial Impression Photograph Gallery (China): This gallery collects both traditional and modern photos, most of which are developed and made by the boss Mr. Chen Guangjun. Notably, some opuses can rarely be seen but here.
798 Space (China): There, space is for renting for press conferences, Fashion Collection and some other activities. Distinctively, the roof is saw-toothed structure, which is called Bauhaus and was designed and supervised by the Eastern Germen 50 years ago. Nevertheless, this construction style is rare in Germany nowadays.
Tokyo Art Work, Beijing (Japan): It is the first gallery in the 798 Art Zone, with the theme of contemporary art.
Tianxiayan Sichuan Restaurant (China): Autochthonous Sichuan dishes which are cooked by good chefs from Sichuan Province, especially the dish of Unique Flavor Duck, are always very popular there.
A bar inside the Zone with traditional Chinese couplet & scrawling on the wall
AT CAFé (China): Run by Mr. Huang Rui, who says his café's feature is Italian coffee "that is much tastier than Starbuck". Besides, its pizza and sandwich are quite delicious. And it is special that this building has an outside of factory style.
12500 Kilometers Long March culture Communication Center (China): This center records all of the famous artist Mr. Lu Jie's early activity, including his leading many artists to communicate with local artists along the route of the 12500 Kilometers Long March. And now, they have almost finished the entire route. If you are interested in folk art, it would be a good place to go. Traditional folk art such as Paper-cut opuses, which are made by the noted paper-cut artist Ms. Gao Fenglian who comes from Shanxi Province, can be seen there.
Xiyuan Elegance Gathering Gallery (China): Focusing on traditional Chinese paintings, especially good at reproducing old Chinese paintings.
Beijing Season Café (VINCENT CAFé, France): A family small bar that is worth your visit most. The French boss Mr. Vincent worked as general manager at a famous French restaurant in Beijing before he opened his own café. At the age of 15, he began to learn cooking and management in Paris. In this café, people can get a good chance to have a taste of French fried pancakes, with meat, vegetable, ice cream or fruits. Another feature there is a kind of drink called SHOOTER mixed by three alcohols. Vincent is an interesting man and he wants to tell those who want to go his café: We can only live once, so we must try to be happy everyday.

Tips: There are much more waiting for your exploration in 798 Art Zone, only can people closely touch them as long as they were there. And once there, people will be embraced and attracted deeply by the artistic atmosphere.
Quick Questions
Our team is waiting for your questions. Please feel free to ask us any questions you might have about our China package tours, Chinese culture, or the sites available. We will gladly help you with any special needs you might have and all questions, like our trip designing is completely free of charge.