Appreciating Willows along the Chang River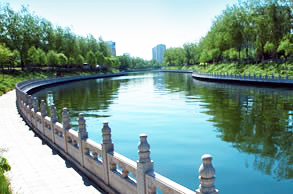 More Photos

History of Chang River
Winding its way in the western suburb of Beijing for more than 30 kilometers, the Chang River has a long history of more than 700 years. In Ming and Qing Dynasties, it was a waterway that must be passed when the imperial family went to the royal palaces and parks in the western suburb for sightseeing or relaxing; meanwhile, it was also the exclusive river which Empress Dowager Cixi's boat passed by when she went to the Summer Palace to avoid the summer heat.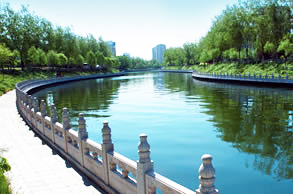 In history, Chang River had some other names, e.g. Gaoliang River in Liao Dynasty, Zhao River in Jin Dynasty, Jinshui River in Yuan Dynasty and Yu River in Ming Dynasty. Different from other rivers, it is the only river considered as "the only imperial river" among the Beijing waters. Nowadays, people can still see a bend named Purple Royal Bend inside the Purple Bamboo Courtyard, where Empress Dowager Cixi transshipped and take a rest. At that time, lines of willows and peaches were planted on sides of the river and it greatly added the charm of the river, which produced a sentence of well-turned Chinese poem --- It is a nice thing to watch pines in the Temple of Heaven and watch willows along the Chang River.

Fun to Enjoy With It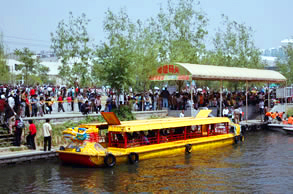 There, two classical aquatic routes, which are respectively of 9.5 kilometers and 9 kilometers, are for your choice. Usually, it takes about 45 minutes to finish a single way. One of the routes is from the Summer Palace to Bayi Lake, enroute there are the wharf of Summer Palace, the wharf of Chang River Bend, Linglong Park, Mingshi Park, Enji Park, the wharf of Binjiao Park, China Central Television Tower, the wharf of Bayi Lake, Aquatic Park, Children's Park of Ms. Song Qingling; and another route is from the Summer Palace to the back lake of Beijing Exhibition Hall (the downstream bend of Chang River), on the way tourists can enjoy the Ruin of Maizhong Bridge, Temple of Longevity, Guangyuan Water Gate, Purple Royal Bend, Park of Purple Bamboo Courtyard, Beijing Library, Beijing Zoo, Beijing Aquarium, Beijing Exhibition Hall (at the wharf) and Gaoliang Bridge. Tourists can visit the spots along the river by embarking the boat.
Quick Questions
Our team is waiting for your questions. Please feel free to ask us any questions you might have about our China package tours, Chinese culture, or the sites available. We will gladly help you with any special needs you might have and all questions, like our trip designing is completely free of charge.