Langmu Temple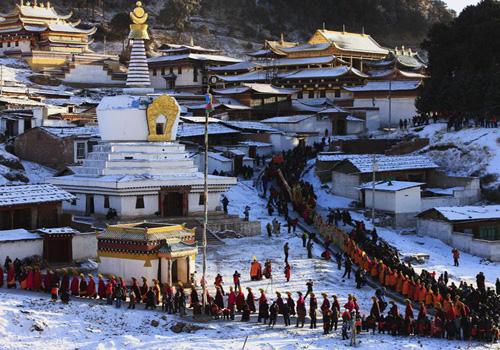 More Photos
Chinese name: 郎木寺 (Langmu Si)
Location: At the border between Ruoergai County of Sichuan Province and Luqu County of Gansu Province.
Opening time: 08:30-17:00.
Entrance fee: CNY60
How to get to Langmu Temple: Public transportation directly to the scenic area is unavailable, so taking a private car to arrive there via Ruoergai of Sichuan Province is recommended.
Best time for visit: May-September
Nearby attractions: Ruoergai Grassland, First Bend of Yellow River, Flower Lake
Introduction to Langmu Temple – A Temple Divided Into Two Parts in Different Provinces
"Langmu" in Tibetan means "tiger cave and fairy", thus Langmu Temple is called Tiger Cave & Fairy Temple as well. People must be wondering how the cave of an animal and fairy are tied together. In fact, regarding the name there are many stories; the popular one goes that a beautiful girl who is kind and brave turned into a rock in a cave with the company of a tiger in it so as to prevent the tiger from doing harm to people. This story may more closely tell the fact that there is a stalactite exactly like a slim fairy in a tiger cave on the southeastern bank of Bailong River (or literally White Dragon River). It separates Langmu Temple into two parts, which face each other across the river, with one in Ruoergai County of Sichuan Province called Kirti Monastery and the other in Luqu County of Gansu Province called Saichi Temple.
Constructed in 1748, Langmu Temple belongs to Tibetan Buddhism. After years of extension and development, the temple today is composed of ten affiliated temples and two ashrams. One of the main pagodas of the temple lays the human body of the fifth Living Buddha, which is the best preserved one with longest time, though after more than two hundred years the skin of the Living Buddha is still elastic. What's more, there are pagodas made from thousands grams of gold, silver, pearl, etc. to remember other Living Buddhas.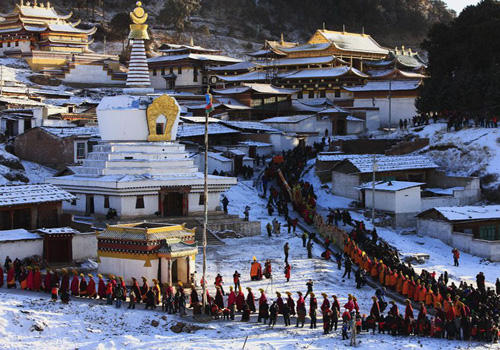 As one of two parts of the Langmu Temple, Kirti Monastery is in an open position, flocks of cattle and sheep graze on pastures nearby. Inside the monastery are four main halls, monks' wooden dormitories with shingles were built by mountains. Crossing a bridge on the small stream Bailong River is Saichi Temple, from high position of which visitors can have a view of Langmusi Town of Gansu Province. The town is extremely tranquil and tender, and hills surrounded are wreathed in mist all the year round, making them so mysterious. Charming natural scenery and poetical landscape there is quite different from other tourist towns, maybe that's the reason why the small town is a popular tourist resort among overseas visitors for years.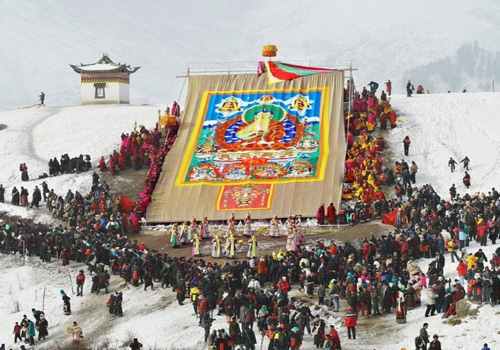 Sunning of the Buddha Festival and Living Buddhas' Teaching
Lots of Buddhist ceremonies are held in Tibet each year, and main Buddhist ceremonies in large-scale held at Langmu Temple are the Sunning of the Buddha Festival and Living Buddhas' Teaching. Buddhist Thangkas, which are embroideries generally about ten meters wide and twenty meters long, will be aired in the sun on the Sunning of the Buddha Festival held around the 15th day of the first month by lunar calendar. The devout Tibetan Buddhists prostrate on the ground to worship when the Thangkas are slowly opened. While the time to hold Living Buddhas' Teaching is unfixed, on the day of teaching Buddhists will listen carefully and reverently hope to get a reed, with which under pillow being believed to tell them some information about reincarnation.

Quick Questions
Our team is waiting for you questions. Please feel free to ask us any questions you might have about our China package tours, Chinese culture, or the sites available. We will gladly help you with any special needs you might have and all questions, like our trip designing is completely free of charge.