28 Days Fantastic China Highlights One Month Tour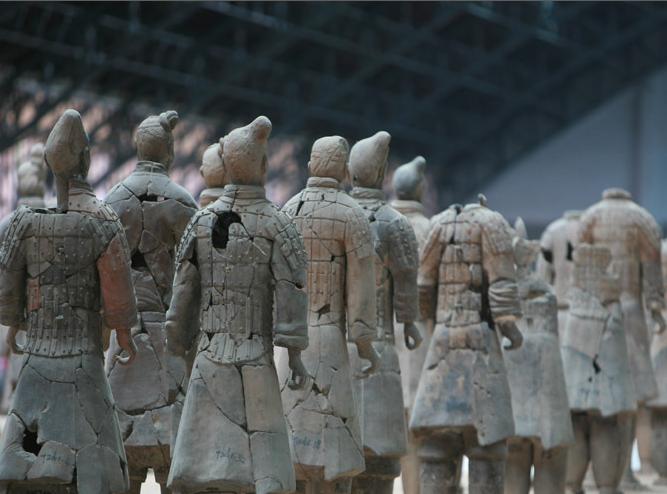 Tour Code: VOC-20100528-R
Destination: Beijing, Chengdu, Diqing(Shangri-La), Guilin, Gyangtse, Lhasa, Lijiang, Longsheng, Shanghai, Shigatse, Xi'an, Yangshuo
Client's Information: Jose Carlos, Filipine
Tour Starting Date: Friday, 28, May, 2010
Group Numbers: 2


Day by Day Itinerary
Day 1 Friday 28-May-10 Meal(s) Beijing Arrival

Transfer via: by air- your own arrangement
Program: Our tour service will start after your arrive in Beijing. Arrive in Beijing, you will be met and transferred to hotel, free for the rest time of the day to explore the city on your own.

Accommodations: Sunworld Hotel Beijing****or similar
Tel:010-58168999, Fax:010-65139095

Day 2 Saturday 29-May-10 Meal(s) (B,L,D) Beijing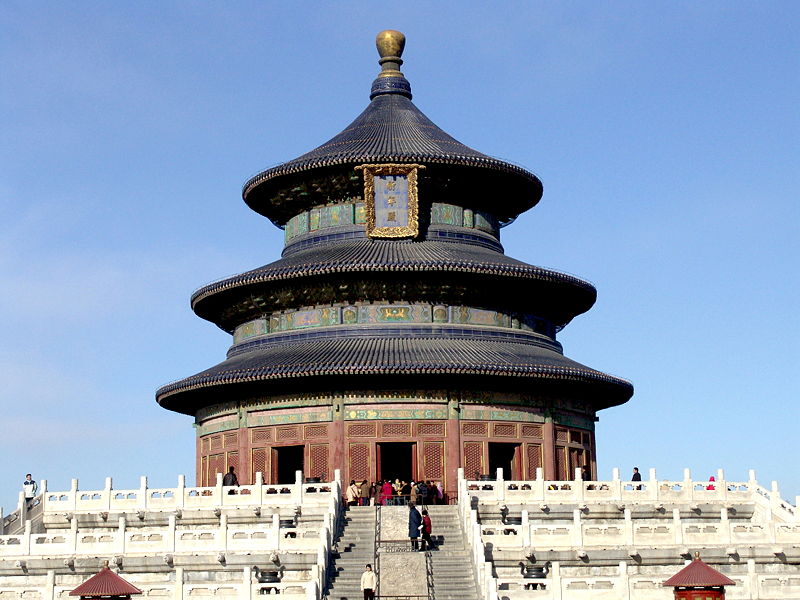 Program: Full day visit to see the Tian'anmen Square, the Temple of Heaven, the Forbidden City. Today you will enjoy the Beijing Roast Duck dinner, and enjoy the Liyuan Beijing Opera in the evening.

-The Tian'anmen Square: The largest city square in the world
-The Temple of Heaven: The place where the ancient emperors used to pray for the God's bless of the whole nation
-The Forbidden City: The largest imperial palace in China during the Ming and Qing dynasties with a history of around 600 years

Accommodations: Sunworld Hotel Beijing****or similar


Day 3 Sunday 30-May-10 Meal(s) (B,L) Beijing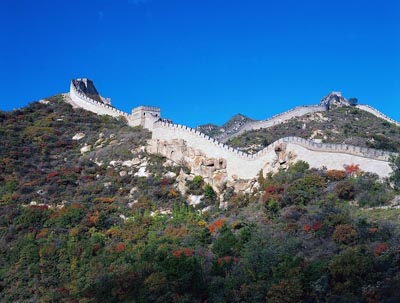 Program: Full day visit to see the Badaling Great Wall, the Ding Tomb, the Sacred Road, on the way back to hotel, take exterior visit to see the Beijing National Stadium (Bird's Nest), National Swimming Center (The Water Cube), feel free to take pictures there.

-Badaling Great Wall: One of the eight wonders in the world and the symbol of China
-The Ding Tomb: The only underground tomb of the thirteen tombs of the emperors in the Ming Dynasty
-The Sacred Road: The way guarded on both sides with stone statues by which the ancient emperors went to hold a memorial ceremony for the ancestors
-Beijing National Stadium (Bird's Nest): The Beijing National Stadium, also known as the bird's nest was the main track and field stadium for the 2008 Summer Olympics and host to the Opening and Closing ceremonies.
-National Swimming Center (The Water Cube): The National Swimming Center, known as 'The Water Cube', was one of the most dramatic and exciting venues to feature sporting events for the Beijing Olympics in 2008
Accommodations: Sunworld Hotel Beijing****or similar



Day 4 Monday 31-May-10 Meal(s) (B,L) Beijing / Xi'an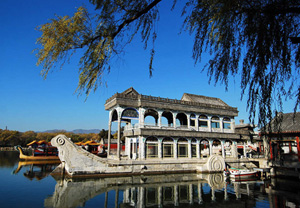 Transfer via: by air (arranged by us) Afternoon Flight
Program: In the morning, visit the Summer Palace, explore the Beijing Hutongs in Rickshaw to feel the culture and local life in Beijing. Lunch in Beijing, then be transferred to airport for flight to Xi'an. Arrive in Xi'an, be met and transferred to hotel for rest.

-The Summer Palace: The largest and best-preserved royal garden in China with a history of over 800 years
-Hutongs: The old narrow paths where common people lived. All the Hutongs crisscross with each other, dotted with the Kindergarten, the Bell Tower, the Drum Tower, the Tea House, and the lake, House of Gong Infante and local people's houses among them

Accommodations: Bell Tower Hotel****or similar
Tel:029-87600000, Fax:029-87271217



Day 5 Tuesday 1-June-10 Meal(s) (B,L,D) Xi'an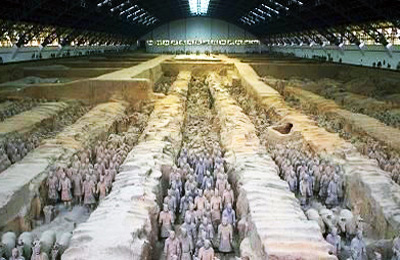 Program: Full day visit to tour the Terra-cotta Warriors and Horses with the terra-cotta copy factory, Big Wild Goose Pagoda. In the evening, you will enjoy the The Tang Dynasty Show and taste the Dumplings Banquet dinner.

-The Terra-cotta Warriors and Horses: The greatest archaeological findings of the century: the army of terra-cotta warriors and the bronze chariots entombed in vast underground vaults at emperor Qin's tomb.
-Big Wild Goose Pagoda: It is a well-preserved ancient building and a holy place for Buddhists.
-The Tang Dynasty Show: This is a very spectacular and elaborate show with dancing, traditional Chinese music and probably the most beautiful Chinese girls in town. A must-see.

Accommodations: Bell Tower Hotel****or similar

Day 6 Wednesday 2-June-10 Meal(s) (B,L) Xi'an / Chengdu

Transfer via: by air (arranged by us) Afternoon flight.
Program: In the morning visit the Ancient City Wall, the Great Mosque of Xi'an. Lunch in Xi'an, then depart Xi'an, be transferred to airport for flight to Chengdu. Arrive in Chengdu, be met and transferred to hotel for rest.

-The Ancient City Wall: It is the largest and best preserved present city wall in ancient China and is probably the best military battlement in the world.
-The Great Mosque of Xi'an: It is the largest and best preserved of the early mosques of China. Built primarily in the Ming Dynasty when Chinese architectural elements were synthesized into mosque architecture

Accommodations: Sichuan Hotel****or similar
Tel: 028-86755555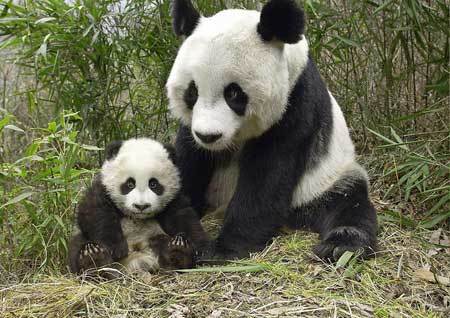 Day 7 Thursday 3-June-10 Meal(s) (B,L) Chengdu

Program: Full day tour to see the Panda Base and Sanxindui Museum.

-Panda Base: people here can approach the pandas and take closely look and even pet them if desired.
-Sanxindui Museum: It is recognized as one of the most important ancient remains in the world for its vast size, lengthy period and enriched cultural contents

Accommodations: Sichuan Hotel****or similar


Day 8 Friday 4-June-10 Meal(s) (B,L) Chengdu / Leshan / Mt. Emei

Transfer via: Private vehicle arranged by us
Program: Departure from Chengdu to have full day tour to see the Leshan Giant Buddha, river cruise to the Giant Buddha. In the evening, you will be transferred to Mt. Emei, check-in the hotel there for rest.

-Leshan Giant Buddha: Leshan Giant Buddha is the largest Buddha in the world,about 71 meters high. It started to be carved in 713 A.D and finished 90 years later.

Accommodations: Yidu Culture Hotel****or similar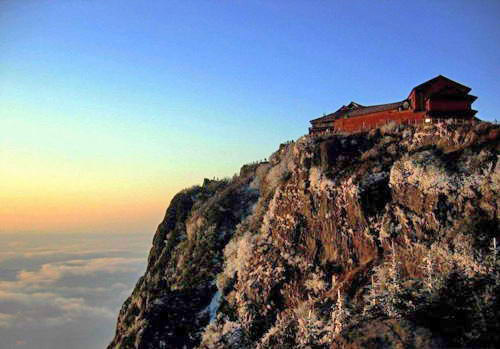 Day 9 Saturday 5-June-10 Meal(s) (B,L) Mt. Emei / Chengdu

Transfer via: Private vehicle arranged by us
Program: In the morning visit to Mt Emei, Myriad Years Monastery and Baoguo Temple. After the tour you will be back to Chengdu for rest.

-Mt Emei: As the famous senic spot and the Buddhist mountain in China, Mt.Emei was listed in the World Naturaural Heritage List by UNESCO. It has many temples and beautiful scenary.
-Myriad Years Monastery: It is the most famous temple on Mt. Emei and it enjoyes high reputation in Buddhism.

Accommodations: Sichuan Hotel****or similar

Day 10 Sunday 6-June-10 Meal(s) (B,L) Chengdu / Lijiang

Transfer via: by air (arranged by us) Morning flight
Program: In the morning, you will be transferred to airport for flight to Lijiang. After arrive there, visit the Lijiang Ancient Town.

-Lijiang Ancient Town: The town was built in the late Song Dynasty and the early Yuan Dynasty and was listed by the UNESCO on the list of the world's major cultural heritages in 1997.

Accommodations: Lijiang Wangfu Hotel ****or similar


Day 11 Monday 7-June-10 Meal(s) (B,L) Lijiang

Program: Today's sightseeing takes you to the wide Dry Sea and clear White Water River. Climb Spruce Plateau by cable car and enjoy the silvery white Jade Dragon Snow Mountain. On the way back to Lijiang, pay a visit to Rock Joseph's Former Residence in Yuhu Village and Baisha Murals in Baisha Village.

-Yulong Snow Mountain (Jade Dragon Snow Mountain) is the southernmost marine glacier in the temperate zone of the northern hemisphere. Altogether there are 13 peaks along the range, stretching for over 35km from south to north.
-Lijiang Mural: It is located in the Baisha Village on the plain north of Lijiang. It is a mixture of artists of Chinese Taoist, Tibetan and Naxi Buddhists and local dongba shamans. This rich fusion had resulted in a tremendously powerful art.

Accommodations: Lijiang Wangfu Hotel ****or similar


Day 12 Tuesday 8-June-10 Meal(s) (B,L) Lijiang–Shangri-La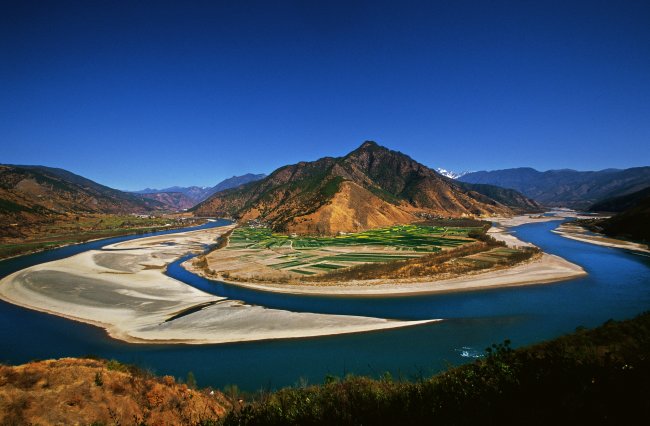 Transfer via: Private vehicle arranged by us
Program: Today's excursion covers the First Bend of Yangtze River, Iron Chain Bridge in Stone Drum Town and Tiger Leaping Gorge on the way to Shangri-La

-Tiger Leaping Gorge Tige: Leaping Gorge is located at the junction of the Qinghai-Tibetan Plateau and Yunnan-Guizhou Plateau. Being one of Yunnan's most famous spots, The gorge itself is tucked neatly between the Yulong Snow Mountain and Haba Snow Mountain, which surround its two sides.
-Stone Drum Town: At the mountain besides the First Bend of the Yangtze, stands a small town which is named Shigu Town.
-The First Bend of Yangtze River: The First Bend of the Yangtze lies in Shigu Town, Lijiang. Rushing down from the Qinghai-Tibet Plateau, "the roof of the world", the Yangtze surges into Yunnan from its northwest, where it meets Lancang River and Nu River.

Accommodations: Holy Palace Hotel ****or similar

Day 13 Wednesday 9-June-10 Meal(s) (B,L) Shangri-La

Program: Head for Songzanlin Lamasery. Then see Bita Lake & Shudu Lake in Pudacuo National Park.

-Songzanlin Monastery, which is is a typical Lama monastery. Located at the foot of Mt. Foping, four kilometers north of Zhongdian County, a monastery was first built here in 1679 and has been rebuilt many times. The architectural style of the building is a faithful imitation of the Potala Palace in Lhasa, Tibet.
-Bitahai Nature Reserve, an intact natural attraction with various species of flora and fauna and of course picturesque landscapes.

Accommodations: Holy Palace Hotel ****or similar

Day 14 Thursday 10-June-10 Meal(s) (B,L) Shangri-La / Lhasa

Transfer via: by air (arranged by us) Morning flight
Program: Transfer to airport and take a flight to Lhasa. Upon your arrival, our guide will pick your up form airport and show you to hotel. You will need time to adapt to the high altitude and should avoid excessive physical activity for the rest of the day in order to prevent altitude sickness. Have lunch when you arrive in Lhasa.

Accommodations: Xinding Hotel, Lhasa *****or similar

Day 15 Friday 11-June-10 Meal(s) (B,L) Lhasa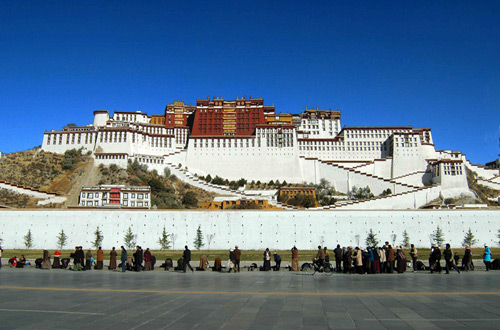 Program: Visit the magnificent Potala Palace in the morning. After lunch, commence to Jokhang Temple and Bhakhor Street. Then you will have a local family visit to get more idea of Tibetan daily life.

-The Potala Palace: Perched upon Marpo Ri Hill, 130 meters above the Lhasa Valley. It is the greatest monumental structure in Tibet.
-The Jokhang Temple: It is the spiritual center of Tibet.
-The Barkhor Street: The Barkhor is the oldest street in Lhasa as well as the center of old Lhasa and remains very traditional. It is a place where Tibetan culture, economy, religion and arts are assembled."
-The Tibetan Family: Common Tibetan people welcome you to their homes, greet you in their traditional way and entertain you with their typical food."

Accommodations: Xinding Hotel, Lhasa *****or similar


Day 16 Saturday 12-June-10 Meal(s) (B,L) Lhasa

Program: Today's sightseeing takes you to the summer resort of Lama, Norbulingka, and Tibet Museum. After having lunch, visit the notable Sera Monastery for Lama scripture debate.

-The Norbulingka Park: Norbulingka means "Jeweled Garden". It was constructed as a summer palace for the Dalai Lama at very beginning, and later served as the whole governmental administration.
-The Tibet Museum: The museum holds texts, photographs, videos and installations that present Tibet's history and visions for its future.
-The Sera Monastery: It is known as one of the three greatest monasteries of Tibet.

Accommodations: Xinding Hotel, Lhasa *****or similar

Day 17 Sunday 13-June-10 Meal(s) (B,L) Lhasa / Gyantse

Transfer via: by private vehicle arranged by us
Program: Enjoy the beautiful scenery of the alpine damned lake-Yamdrok Lake and the white Karola Snow Mountain on the way to Gyangtse . After the arrival, transfer to hotel. Then, pay a visit to Phalha Manor and Gyangtse Old Street.

-Yomdrok Lake: It is within Langkamu county, with an area of 638 square km and a coastal line of 250 km.

Accommodations: Gyangze Hotel,Gyangtse***or similar

Day 18 Monday 14-June-10 Meal(s) (B,L) Shigatse / Lhasa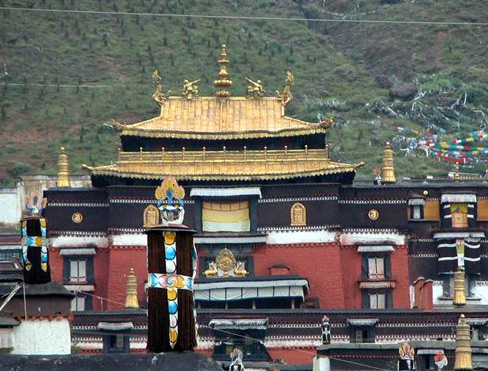 Transfer via: by private vehicle arranged by us
Program: Pay a visit to Palkhor Monastery on the way to Shigatse. See Tashilunpo Monastery. Then, transfer to Lhasa and show you to hotel.

-Palkhor Monastery: It is with 9 stories, 108 doors and 77 rooms. Each room contains a different statue of Buddha and the wall frescoes telling the story about it.
-Tashilumpo Monastery: Painted in red and white, the buildings in the monastery stand closely together in terraced rows, offering a grand and majestic view.

Accommodations: Xinding Hotel, Lhasa *****or similar

Day 19 Tuesday 15-June-10 Meal(s) (B,L) Lhasa / Xi'an / Shanghai

Transfer via: by air (arranged by us) Afternoon flight, you will spend today on the plane as the transportation from Lhasa to Shanghai will not so convenient. You will need to fly to Xi'an first, then fly on your own by our arranged flight to Shanghai.
Program: Visit Tibetan Traditional Hospital. After lunch, you will board a flight to Xi'an first, then after arrive in Xi'an, you will transfer the flight to Shanghai on your own. Our local guide will pick you up at the airport and transfer you to hotel.

Accommodations: Central View Suites Shanghai hotel****or similar
Tel:021-63538008, Fax:021-63530671

Day 20 Wednesday 16-June-10 Meal(s) (B,L) Shanghai

Program: We will pay a visit to the Yuyuan Garden and the town's god temple, and Pudong New District for the whole morning. After lunch, have a cruise trip in Huangpu River. In the evening, we will enjoy the famous Acrobatic Show.

-Yu Garden: It's reputed to be the most beautiful garden south of the Yangtze River. Built beside the Temple of the City God and covering only fives acres, it follows the Suzhou garden design of a world in microcosm
-Town's God Temple: Old City God's Temple is a major yet relatively inactive, Taoist temple in Shanghai. It is located in the area south of Yan'an Road on the Fangbang Zhong Road

Accommodations: Central View Suites Shanghai hotel****or similar

Day 21 Thursday 17-June-10 Meal(s) (B,L,D) Shanghai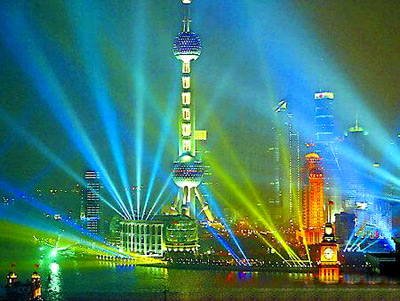 Program: Full day visit to see Jade Buddha Temple, Oriental Pearl TV Tower, Nanjing Road, The Bund (Waitan), the People Square, the Xintiandi Leisure Areas. You will have lunch and dinner with us today.

-Jade Buddha Temple: The Jade Buddha Temple is one of the few temples in downtown Shanghai. If you're lucky, you can watch the monks serving a ceremony in a side room.
-Oriental Pearl TV Tower: the highest TV Tower in Asia. With 468 meter high it stands in Pudong Park in the new and developing Lujiazui district on the banks of the Huangpu River
-Nanjing Road: It is one of the most important commercial and tourist streets in Shanghai, which streches from Waitan to Yanan Xilu
-The Bund (Waitan): It is one of the most recognizable architectural symbols of Shanghai. It is here where the first British company opened a office in 1846

Accommodations: Central View Suites Shanghai hotel****or similar

Day 22 Friday 18-June-10 Meal(s) (B,L) Shanghai / Zhujiajiao / Shanghai

Program: Full day tour with us to see the Water town of Zhujiajiao, enjoy the water town culture and the have cruise on the small boat in the water town.

-Zhujiajiao: It is a typical ancient water town in the south of the Yangtze River. There you can see the well-preserved Ming and Qing architecture, ancient stone bridges, ancient streets, etc.

Accommodations: Central View Suites Shanghai hotel****or similar


Day 23 Saturday 19-June-10 Meal(s) (B, L) Shanghai / Hangzhou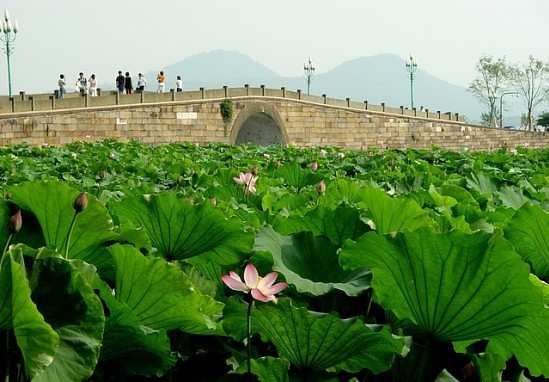 Program: In the early morning, you will be transferred to Hangzhou, after arrive there, visit the West Lake, Six Harmonies Pagoda, Lingyin Temple. After the tour, you will be transferred back to hotel in Hangzhou for rest

-West Lake: Lying on the west edge of Hangzhou city, West Lake is the symbol of Hangzhou as well as one of the most beautiful sights in China.-Lingyin Temple: Lingyin Temple is one of the ten most famous ancient Buddhist temples in China. It also houses various Buddhist literature and treasures.
-Six Harmonies Pagoda: It is a perfect symbol of brick-and-wood structure built in the ancient China. It was first built in 970 AD in the Northern Song Dynasty (960-1127). The name "six harmonies" comes from the six Buddhist ordinances, meaning "harmonies of the heaven, earth, east, west, south and north".

Accommodations: Hangzhou Wuyang International Hotel ****or similar


Day 24 Sunday 20-June-10 Meal(s) (B, L) Hangzhou / Suzhou / Shanghai

Program: In the morning, you will be sent to Suzhou, arrive Suzhou, have leisure on the Pingjiang Road with the Rickshaw there, then visit the Humble Ministrator's Garden and the No.1 Silk Factory. After the tour, you will back to Shanghai for rest.

-Humble Ministrator's Garden: The garden is the best representative of Chinese classical gardens,constructed in the Ming dynasty. Focused on a central pond with pavilions, terraces, chambers, and towers located nearby, the garden is divided into three parts: the eastern, middle and western parts.
-The No.1 Silk Factory: Suzhou is also famous for its silk production. In the factory you can see how the silk is processed from the silk worm to the final woven cloth.

Accommodations: Central View Suites Shanghai hotel****or similar

Day 25 Monday 21-June-10 Meal(s) (B,L) Shanghai / Guilin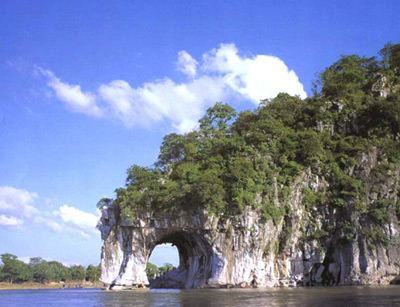 Transfer via: by air- Morning flight arranged by us
Program: Arrive in Guilin before noon, you will be met and transferred to hotel, after lunch you will visit the Reed Flute Cave and the Elephant Trunk Hill

-Reed Flute Cave: Known as "the Palace of Natural Arts" where you can see beautiful stalactites & stalagmites, learn how they are formed.
-Elephant Trunk Hill: Located at the conjunction of the Li River & the Peach Blossom River, the whole hill looks very much like a giant elephant with a long trunk, it is the symbol of Guilin city.

Accommodations: Guilin Bravo Hotel****or similar

Day 26 Tuesday 22-June-10 Meal(s) (B,L) Guilin / Yangshuo / Guilin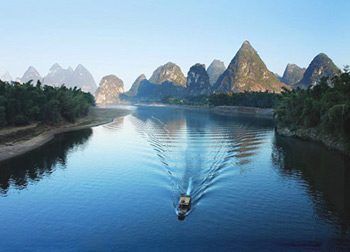 Program: In the morning, you will take the Li River Cruise to Yangshuo, lunch on the ship, after the cruise experience, you will arrive in Yangshuo, then visit the West Street, enjoy the leisure and free activity there. In the evening, you will be transferred back to Guilin for rest.

-Li River Cruise: Depart from your hotel in the morning. Be transferred to the Zhujiang Pier(about 1 hour drive)for a 4.5 hours wonderful cruise.You will enjoy the picturesque mountains, peaceful green fields ,farms and villages with water buffalos, cows wondering around on both sides of the river bank. Disembark at the one-thousand-year-old town Yangshuo in the afternoon. Have a short exploration to the old town before to be transferred back to Guilin city.
-West Street: West Street is the oldest street in Yangshuo with a history of more than 1,400 years. Situated at the center of Yangshuo County, West Street has become, since the 1980's, a window of eastern and western culture and the biggest 'foreign language center' in China.

Accommodations: Guilin Bravo Hotel****or similar

Day 27 Wednesday 23-June-10 Meal(s) (B,L) Guilin / Longsheng / Guilin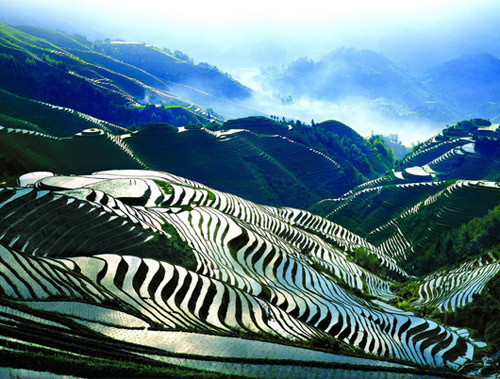 Program: In the morning you will be transferred to Longsheng County to have a full day visit to see the Dragon's Backbone Rice Terraces, Yao Ethnic Tribes, Zhuang Ethnic Tribes. Today you will have a long time in the car so please make sure have good rest before the tour. After the tour, you will be back to Guilin for rest.

-Dragon's Backbone Rice Terraces: Longji, as known as the Dragon's Backbone Rice Terraces, is located in Longsheng County, the mountainous region on the northeastern part of Guilin. They were first built in the Yuan dynasty ( about 800 years ago)and completed in the Qin dynasty by Zhuang people.

Accommodations: Guilin Bravo Hotel****or similar

Day 28 Thursday 24-June-10 Meal(s) (B) Guilin / Shanghai / Hong Kong

Transfer via: by air- flight arranged by us from Guilin to Shanghai only
Program: Free at leisure till be transferred to airport for your flight to Shanghai and finish the tour service with us. After your flight arrive in Hong Kong, you will take your own arranged evening flight home to MNL. (Please make sure your flight back home will be a late evening flight to make sure in the morning you will have enough time fly from Guilin to Shanghai first)



Service Ends!
Custom Tailoring: Design your own tour with our help to meet your unique interests. You don't have to compromise. Do exactly what you want to do! Let us assist you to tailor-make your own China experience.
What Our Customers Say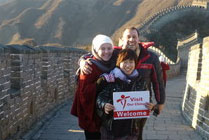 Thank you so much for organizing the Tour for us - my Boss loved it!!! All went well - actually much better than I thought it would be. The tour guide Lucy (Ling Ling) was simply amazing - what a wonderful lovable and knowledgeable person!!!! She took care of us in the most perfect way. ...
Read more testimonials...