Zhangjiajie Transportation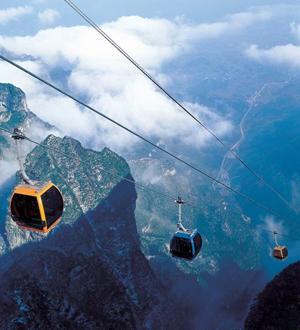 By Air
Hehua Airport, located in the Hehua village, Guanliping office, Yongding district, is just five kilometers away from the downtown area. At present, visitors can fly from more than 20 cities to zhangjijie, including Shanghai, Beijing, Guangzhou, Tianjin, Chengdu, Changsha, Xi'an, Qingdao, Shenyang and Nanjing.
Shuttle bus – parked at the exit of the airport. It takes you about ten minutes to arrive at the Zhangjiajie Airport Hotel.
Bus – take No. 4 bus and you can reach Zhangjiajie Airport Hotel, long-distance bus station and other places. It is a half-an-hour or so journey. For your information, the bus departs from 100 metres away from the entrance of the airport, running from 08:00 to 18:00
Taxi – the expense hinges on your destination.
By Train
Though railways in zhangjaijie are not that much, yet they have already connected Beijing, Shanghai, Guangzhou, Shenzhen, Changsha, nanning, Guiyang, yichang, Zhanjiang, zunyi and other large and medium-sized cities. It is relatively convenient for travellers. If you just decide to tour around Zhangjiajie, you are suggest not taking K9031 from Changsha in that it has to reach the destination by way of Jishou and Huaihua. It takes passengers about over ten hours, compared with four hours by T8308. However, if you also plan to visit fenghuang, you can take K9031 and get off at the stop of Jishou.
Bus – there is only No. 5 bus bringing you to the downtown area via the bus station. You can transfer to some scenic areas at the bus station.
Taxi – on the railway station square, you can take the cab to the downtown area or scenic areas, price hinging on the distance you have covered.
By Bus
There is only one bus station in Zhangjiajie. Located next to Zhangjiajie railway station, it is a general bus station where long-distance coaches are bound for cities within and outside the province. Some short-distance shuttle buses heading for Zhangjiajie scenic areas and nearby counties are also available.
From Zhangjiajie to Changde south bus station – the first bus departs at 06:00 and covers a 200-kilometre distance.
From Zhangjiajie to Jishou – the bus runs every 60 minutes from 07:00 to 18:00.
From Zhangjiajie to Changsha – the bus runs every 30 minutes from 07:30 to 19:00 and covers a 390-kilometre distance.
From Zhangjiajie to Fenghuang – the bus runs at 08:00, 09:00, 12:30, 14:30, 15:30, and 16:30.
From Zhangjiajie to Wuhan – the bus departs from the station at 08:30, covering 550 kilometres.
Self-driving Tour
It will only take you 2.5 to 3.5 hours to drive from Changsha by way of Changsha-zhangjiajie highway. Those who drive from Beijing, shanghai, Guangzhou or surrounding provinces can first reach Changsha via the main line of Beijing-zhuhai highway before Changsha-zhangjiajie highway.
City Transportation
Bus – since zhangjijie is not a big city, the bus routes are relatively fewer. There are about ten bus routes and buses usually run from 06:00 to 20:30.
Taxi – the starting price is 6 yuan (including 1.6 kilometres), after 1.6 kilometres, additional 1.6 yuan for one kilometer, after 10 kilometre, additional 3.2 yuan for one kilometer. If you take the cab from 22:00 to 07:00, the starting price is 7 yuan.
Pro-environment car – you must take pro-environment cars so long as you are visiting Wulingyuan Scenic Area, where fees are included in the entrance ticket. The car drives every 20 minutes from seven o'clock in the morning to five o'clock in the evening.