Guilin
Guilin in brief Guilin, famous all over the world for its landscapes the best under heaven, is a beautiful scenic city lying in Northeast Guangxi Zhuang Autonomous Region, South China. Situated on the west bank of the Li River (Li Jiang), Guilin, literally meaning forest of osmanthus in Chinese, took its name from the large number of osmanthus trees spreading out everywhere in the city. Administering 17 county-level divisions, this major top 10 tourist destination in China is known for its stunning karst topography typical of this southern part of the country. As a city celebrated for generations by poets and painters, Guilin is the place where time goes smoothly. Enjoying a monsoon humid subtropical climate, Guilin flourishes with many types of fauna and flora. Located in the Guangxi Pro...Read more>>
Best reasons to visit Guilin
One who fails to have rice noodle is not visiting Guilin – dwellers take rice noodle to their heart; as long as you stay here, you can not miss this most popular food!
Beer fish – a supreme dish attributed to excellent beer brewed with water from Li River and fresh fish swimming in the Li River.
Three Treasures of Guilin – Sanhua Jiu, fermented beancurd and chilli sauce go hand in hand with the locals' daily life and make good souvenirs for visitors.
The first live-action on water show – Impression of Sister Liu aesthetically presents a striking and wonderful combination of ordinary locals and Guilin scenery.
East and west, Guilin scenery is best – the city is an exquisite Chinese ink wash painting that will never fade.
O, How marvelous the mountains are! - Elephant Trunk Hill, emblem of the city, Fubo (wave-subduing) Hill, Yao Mountain, Duxiu Feng (Solitary Beauty Peak)Diecai Shan (Folding Brocade Hill), Mao'er Mountain, the first ridge of southern China – all guard the peaceful city night and day.
O, How crystal the water is! – Li River, mother river of Guilin and the pearl of Guilin city tour, often intrigues visitors
with its picturesque landscapes.
Stunning karts topography - Reed Flute Cave and Seven Star Cave will impress you with the dazzling stalactites
and stalagmites.
Relaxation in the global village - West Street with a history of more than 1400 years watches quaint architecture
and carefree traveler around the world relish the living present.
Champion of the world terraces; paradise of photographers - Dragon's Backbone Rice Terraces win s people's
admiration owing to the wisdom and diligence of its creators - Yao and Zhuang ethnic minorities.
Guilin "Must See" Scenic Spots
What Our Customers Say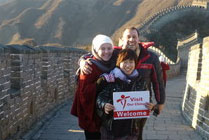 I hope this letter finds you well. We finally arrived home from our trip last Thursday the 17th. As promised I am writing to you about our experience in China and we thank you very much for your organizing. On the whole we had a wonderful time and were very well looked after...
Read more testimonials...