Guangzhou
Guangzhou in brief Guangzhou is the capital city of the Guangdong Province, South China and a worldly famous economic, gastronomic and tourist halt city. Also known as Canton, this major Chinese city influenced by the nearby Hong Kong and Macao is somewhat the first city travelers to China will visit, just like Beijing or Shanghai. The city is indeed located in the north of the Pearl River Delta and enjoys a monsoon sub-tropical climate. Recognised as a high trading center, Guangzhou is also a busy port and an important city that influences the whole country's economy. The sprawling urbanization of the city is getting more and more important everyday: huge traffic lines, never ending flyovers, new modern subway system give more ease to inhabitants and tourists. Worldly renowned for the ...Read more>>
Best reasons to visit Guangzhou
Commercial port with a thousand-year history – Cantonese mooncakes, Canton Enamel Ware and Canton embroidery are typical representatives of Guangzhou city.
Red beans of South China – Cantonese opera wins great popularity among the locals due to its fine performance and melodious music.
Rainbow at night –enjoy yourself on the Pearl River by boat, you will feel as if you walked on a glistening rainbow when night falls.
Eating in Guangzhou – Guangzhou cuisine is one of the main branches of Cantonese cuisine; sipping tea and eating soup
have become a unique culture of Guangzhou.
Vivid yet those crowded days – pay a visit to Sun Yat-sen Memorial Hall Park or Western Han Nanyue King Tomb
Museum to learn or recall the past of China.
Great achievement of architecture in the south of the Five Ridges - Ancestral Temple of the Chen Family remains
the most intact, grandest traditional architecture in Guangdong province.
One of the four Buddhist temples of Guangzhou – feast your eyes with enticing natural scenery and rich
cultural relics in Temple of Six Banyan Trees.
The name of Guangzhou – apart from charming scenery, abundant cultural relics, Yuexiu Park furnishes
stadium, swimming pool and other recreation and culture centres.
Guangzhou "Must See" Scenic Spots
What Our Customers Say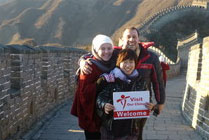 I hope this letter finds you well. We finally arrived home from our trip last Thursday the 17th. As promised I am writing to you about our experience in China and we thank you very much for your organizing. On the whole we had a wonderful time and were very well looked after...
Read more testimonials...