Question & Answer
Warmly welcome to China with us! We are very glad to provide you with some practical information for you to get some general ideas of China before you come to visit China. The following are some basic information for your China trip, we hope it would be useful and you will enjoy your stay in China. If the information what you need is not covered below, please feel free to contact us: contact@visitourchina.com, phone at +86-773-5833156, or fax at +86-773-5817771
Comfortable tourist vehicles with air-conditioner are selected to serve tourists in China. Generally, we will arrange vehicles according to the number of a tour group and also ensure enough space for tourists to place their luggage in the vehicles.
Generally, trains named with T (the fastest train), K (fast train), N (starting destination, termination and routes are under the control of one railway bureau) and Z (non-stop train) are all air-conditioned.
Generally speaking, there are 4 beds in one soft sleeper compartment and only a few trains departing from Beijing have compartments for two. So you have to buy four tickets for two people if you prefer a private compartment.
Normally, a food/drink barrow will go on patrol on the train, selling fruits, snacks, drinks, and Chinese fast-food.
In general, long-distance trains have berths more than short-distance ones do.
At recent years, the Chinese government is drafting to ban smoking in all public areas. So please notice before smoking in public occasions in China.
Traffic condition is diverse in different cities in China. Commonly, traffic jams happen more frequently at rush hours and holidays in big cities such as Beijing, Shanghai and Shenzhen. But we know how to avoid the rush hours, so please don't worry about it.
About Our Company
China Travel Resources
What Our Customers Say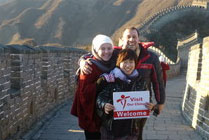 The tour you organized for us went very well, excellent timing and communication, even the restaurant where we stopped for lunch was very good. I want to give a special compliment to the guide Jenny, who was very well prepared, a vast vocabulary, very helpful (she also solved some small p...
Read more testimonials...