Olympic Park to Open on September 29th
updated: 2008-09-19
The Olympic Park, the main venue for both the Olympics and Paralympics, will open to the public on September 29th, Beijing Daily reported.
The Beijing Municipal Transportation Administration Bureau revealed the Olympic Park will have a trial run from September 25 to 28, when all the stadiums will be closed to visitors.
The Olympic Park will open to the public from September 29th to October 5th, with its Central District open from 9am to 9pm and the Forest Park from 9am to 7pm.
Subway line 8 and public buses will guarantee a transportation capacity of 200,000 and 100,000 passengers per day respectively.
The Olympic Public Traffic Headquarters will work to ensure security and order within the park.
About Our Company
China Travel Resources
What Our Customers Say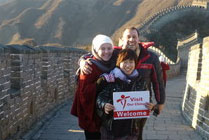 Just wanted to thank you for making ourtrip such an enjoyable experience. My family and I had a great time. Our guide,David, in Huangshan is very knowledgeable and most accommodating. He takespride in his work and his cultural heritage. We learned a lot from him. I will certainly seek out your...
Read more testimonials...