Your Position:
Home
China News
China's Forbidden City comes alive online
China's Forbidden City comes alive online
updated: 2009-08-28
China's 600-year-old Forbidden City is renovating its website in a move to improve its offerings of Chinese culture, said the information chief of the Palace Museum Wednesday.
The new website will launch during the National Day Festival in early October, said Hu Chui, head of the museum's information department.
"It will give visitors richer and easier access to the imperial city, and the ancient building complex with as many as 8,707 rooms and 1.5 million artistic articles," said Hu, who is leading a team of 60 to boost the museum's digital display.
The Forbidden City is the world's largest surviving imperial palace complex and served as the home of the emperor and his household, as well as the ceremonial and political center of Chinese government, from 1420 to the early 20th century.
The new website is restructured to meet the different demands of laymen, researchers and academics, Hu said.
The site will include quiz games, suitable for children, that teach basic knowledge about ancient China. The museum has created a cartoon figure as its image ambassador, a young emperor clad in a bright yellow royal robe adapted from Emperor Kangxi, one of the most famous emperors of the Qing Dynasty (1644-1911).
Older visitors can expect tens of thousands of pictures in refined quality with explanatory introductions. And researchers can have access to the museum's academic research findings in a database.
"VIRTUAL WORLD" STAGES
The new website is part of the imperial palace-turned museum's effort to move into the virtual world.
Hu's team is producing seven 3-D documentaries, each a 20- to 30-minute film mixed with real photographs or archival footage, and special effects produced by computer.
A yet-to-open 3-D cinema is in the southwestern corner hall in the yard of the Hall of Supreme Harmony, with black walls and red chairs.
Xu Ying, director of the museum's exhibition technology section, said the cinema is built of a removable steel structure that minimizes possible damage to the ancient wood architecture of the hall.
"We are recruiting management staff now. Our top problem is to ensure the safety of the palace hall when the audience crowds in," she said.
PRESERVING ARCHITECTURE
Qi Xin, technician of the team, admitted this is a difficult task.
"Unlike ordinary museums, the wood construction of the building is the exhibit itself. The preservation is as important as the exhibition," Qi said.
From April until now, visitors have been able to use electric touch screens to look at details of ancient works of calligraphy and paintings in the imperial collections in the Hall of Martial Valor in the southwestern part of the palace.
On the screens, beside each exhibit, visitors can easily find information about the exhibit in detail and zoom in on high-definition pictures, large enough to discern even tiny strokes.
"It's wonderful. I could see much clearer this way than pressing my face onto the glass surrounding the exhibits," said Chen, a near-sighted college sophomore from Jiangsu Province who declined to give his full name. "This is what a museum should be."
The Forbidden City was listed as a World Heritage Site in 1987 by UNESCO with the largest collection of preserved ancient wooden structures in the world.
Despite more than eight million visitors annually, knowledge of its architecture and antique collections have been largely unknown to the public. Many visitors come to the palace only to boast that they have been in the emperor's bedroom.
"That's why we are committed to digital technology. It could make learning more attractive," said Hu.
THREE-DIMENSIONAL TOURS
About 200,000 users have registered in the museum's "Virtual Forbidden City" online travel community or "Beyond Time and Space", a project which kicked off last October jointly with IBM.
A click of the mouse, and the Chinese cultural beginner can take a three-dimensional tour of the 725,000-sq-m museum.
However, despite many initial registrations, the number of users online is leveling off.
Yang Shuo, a 25-year-old user of the website, said: "It really attracted me at first. But the content is limited. A digital tour takes only 15 minutes. You have few things to do if you log in twice."
Other users complain that the site is slow in general, and in changing scenes during the 3-D tour.
Guo Weide, manager of corporate citizenship and cooperate affairs for IBM Greater China Group, said: "We hope to make further developments together with the museum."
IBM produced a similar online museum, "Eternal Egypt," based on Egypt's pyramids.
"I'm sure the new website could make up for its shortcomings," said Hu. "And after all, the digital technology is a supplementary tool that attracts and helps people to understand."
It is "a great pity" that so many valuable artifacts are unknown to the world, and the new website should help change that, Hu said.
(China Daily August 28, 2009)
Recommended China Guide :
About Our Company
China Travel Resources
What Our Customers Say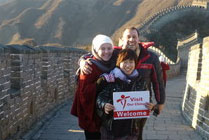 We are back home and I just wanted to send you a note and let you know again how pleased we were with the tour package that you put together for us. It was last minute and I realize this made things more difficult for you. Everything worked out so very well! All of our guides were wonderful...
Read more testimonials...