Third World Buddhist Forum Opens in HK
updated: 2012-04-28
The Third World Buddhist Forum opened here Thursday with more than 1,000 Buddhist monks and scholars from more than 50 countries and regions to discuss the role of Buddhism in the construction of a harmonious society and peaceful world.
At the beginning of the opening ceremony, led by President of the Hong Kong Buddhist Association Kok Kwong, President of the Buddhist Association of China Chuan Yin, the 11th Panchen Lama, Bainqen Erdini Qoigyijabu, all the participants, together with thousands of monks and Buddhist believers, bowed three times to the status of Lord Sakyamuni Buddha and chanted he Heart Sutra, which is one of the most well known Buddhist scripture.
Recommended China Guide:
About Our Company
China Travel Resources
What Our Customers Say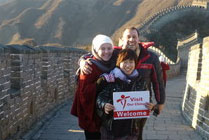 Just wanted to thank you for making ourtrip such an enjoyable experience. My family and I had a great time. Our guide,David, in Huangshan is very knowledgeable and most accommodating. He takespride in his work and his cultural heritage. We learned a lot from him. I will certainly seek out your...
Read more testimonials...