Hangzhou Transportation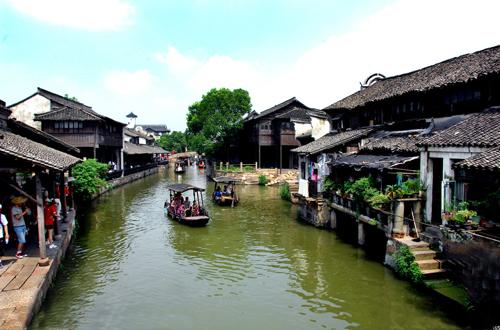 By Air
Hangzhou is served by Xiaoshan International Airport, which is located in Guali Town, Xiaoshan District, on the south bank of Qiantang River, and some 27 kilometers to downtown Hangzhou. It is the first airport in mainland China that cooperates with other capitals- one of the World's Best Airports- HK International Airport. Especially, the airport has a 17.6km-long totally enclosed exclusive passageway to Hangzhou, and provides 126 lines linking with 59 cities, including 44 major domestic cities, 13 international cities and 2 regions.
Taxi or shuttle busses are available to transfer passengers between city center (at Civil Aviation Office at Wenlin Gate, 武林门民航售票处) and the airport. The ride takes 40 mins to 1 hour. Commonly, it costs about 110-150RMB to take a taxi, and 25RMB by bus. It is necessary to take bus to the airport at least 2 hours ahead the take off.
Shuttle busses from airport to downtown run every 30 mins from 07:30 to 09:30 and after 17:00 in the evening, and run every 15 mins from 09:30 to 17:00. From downtown to airport, buses run every 30 mins from 05:30 to 09:00 and from 17:00 to 20:00, and run every 15 mins from 09:00 to 17:00.
In addition, at Xiaoshan International Airport, there are also buses to downtown Xiaoshan, Shaoxing City, Yiwu City, Suzhou City, Chaozhou City, Jiaxing City, Haining City, and Wuzhen (Wu Town). At Civil Aviation Office in the city center, about six shuttle busses are also operated every day to Shanghai Hongqiao Airport from 06:00 to 15:00. The ticket costs about 85RMB.
By Train
Hangzhou is a significant railway terminal in Eastern China and a junction of four rails, Shanghai-Hangzhou, Hangzhou-Zhuzhou, Hangzhou-Ningbo and Xuancheng-Hangzhou. It has two passenger train stations, one is Cheng Station at the junction of East Beltway and West Lake Avenue, the other is East Station in Xiaoshan District, of which the former is the major one that many a train departs from here. The Cheng Station also provides 85 lines motor train units to some major cities of the country, like Shanghai, Nanjing, Fuzhou, Nanchang, Wenzhou, Jinan, Tianjin, Beijing, etc.
Almost every corner of the city has public buses to Hangzhou Cheng Station.
By Bus
Being the center of highway network in Zhejiang Province, Hangzhou has four passenger transport stations in four directions with coaches departing for respective directions. Shuttle busses can transfer passengers between every two stations.
Cruises
Tourist cruises are Grand Canal Cruise and Qiantang River Cruise, both of which are only operated in summer and tourism peak season. The Beijing-Hangzhou Grand Canal Cruise departs at 17:30 in the afternoon, and arrives in Suzhou at 07:00 the next morning; while return journey departs at 17:30 in the afternoon of the arrival day.
In the scenic area of West Lake, there are motor-driven boats, rowing boats with boatman, and without boatman are for choice.
City Transportation
Buses- Hangzhou has a quite convenient public buses system with 278 lines, including some exclusive tourist lines, holiday lines running on weekends and official holidays, West Lake-round lines, and water buses. The operating time for most tourist lines is from 06:00 to 18:00, and other common busses from 05:00 to 22:00, with several lines running all-night.
Taxis- for ordinary taxi (Passat, Sonata, Reg Flag), pricing starts at 11RMB (including 3 km), 3 kilometers after additional 2.4RMB for one kilometer, and 8 kilometers after, additional 3RMB for one kilometer; for luxury taxi (e.g. Benz), pricing starts at 11RMB (including 2.5 km), 2.5 kilometers after additional 3RMB for one kilometer, and8 kilometers after, additional 5RMB for one kilometer. In Hangzhou, there is also a kind of yellow electric taxis that especially eye-catching, which were officially put into practice only from 2011.
Bicycle- By bicycle is a popular and a leisure way to explore the tiny beauty of Hangzhou. Part of Hangzhou hotels providing bicycle renting to their guests; as for other travelers, bicycle can be rented in leasing companies. Generally, prices ranges from 5 to 10 RMB for an hour and the deposits varied from 200 to 500RMB. And recommended renting sites are Huaqiao Hotel at No.39 Hubin Road, in the front of Zhongshan Park at Gushan Hill, Lakeview Hotel at No.2 West Huangcheng Road, and Yellow Dragon Hotel.
Furthermore, to sightsee the West Lake, battery truck, which runs from 08:00 to 17:30 in day time and will circle the lake, can be also chose.