The Validity of Single-entry China visas is 3 months after the issuing date, and the duration of stay is 30 days, which is enough for a normal tourist.
You can apply anytime as long as it's within 90 days from entry date. For single-entry China visas, you should normally apply for your visa three to four weeks prior to departure.
Generally and traditionally, April, May, early June, September, October and early November are the best time to visit China. They are actually the traditional Peak Seasons in China travel industry. While, if you are travelling at other time of the year, you can enjoy not only lower prices, but also a leisure pace during the journey.
Your packing list depends on the time and destinations you visit in China. In spring and autumn, you need to bring a couple of shirts, sweaters, and a jacket that can be worn in layers to accommodate China's range of climates. A pair of comfortable walking shoes is very important, as you are going to have a lot of walking in sightseeing. If you are going to do a lot of climbing, shoes with high sides and a hard sole will be the best choice. In winter, you should bring down coats. Summer is very hot, sometimes reaching 40 C (104 F). Hats, sunglasses, sunscreen and lip balm are needed to protect you from sun and windburns.
We suggest that you take some pain killers, anti-inflammatory prescriptions and medicines for cold, fever and diarrhea while traveling. If you take some tour at a high altitude, highly recommend you to take some travel pill or anti-nausea medicine along. If you travel in some remote areas, remember to take some anti-mosquito spray, cream or lotion. In addition, medicines for preventing sunstroke in summer are all necessary.
No vaccinations are currently required to enter China, unless you come from or through a yellow fever infected area. Highly recommend taking along the international certificate of vaccination lest it is required when you pass the customs. .
According to the regulations of China National Tourism Administration (CNTA), children who are over 12 years old should be charged as aults. Ones are less than 12 years old should be charged less land services and domestic airfare than adults. For infants less than 2 years old will be free of charge, except for the airfare, which is 10% of the adult's fare.
Our prices only include airfare of China domestic flights, so you have to settle your international flights beforehand. Generally speaking, passengers can get a reasonable discount if they purchase the tickets from the departure city/country.
We suggest that you book tour from our company as early as possible so that we can confirm everything according to your require. Especially in peak season, most items are very difficult to reserve, such as the hotel, air ticket, ship space, and so on. So the sooner you confirm and make your reservation from us, the more satisfactory tour arrangement you will get.
We do accept late reservations, but we cannot guarantee that we can book everything according to your requests if some reservations are not available. Therefore, we cannot do nothing but make some alternative choices accordingly. For example, book another hotel but with the same rate, change another sailing date of Yangtze cruise. To avoid this inconvenience, highly recommend you to confirm your tour as early as possible.
The Financial Department will provide you a voucher or invoice through e-mail.
As soon as we receive a deposit from you, we will book everything for you and send a formal Confirmation Letter to you to confirm each item. We do accept credit cards, such as VISA, MasterCard, American Express and Diners Club. You can also purchase the tour through Wire Transfer or Western Union. Please click on Booking Procedure to learn further information.
In addition to scheduled China tour packages, TripChinaguide also specializes in tailor-made programs that include activities and events that are of particular interest to you. We will make every effort to take care of all the aspects of your tour.
If you have satisfied with the itinerary and quotation we customized for you, please state in an email to confirm with us that you accept them. Then we will send you a "Credit Card Authorization Form" or account of "Wire Transfer" and "Western Union" for your initial deposit payment. But for some late reservations, we will not charge deposit from you until we can confirm the reservation for you.
As soon as all portions are confirmed, we will send a formal Confirmation Letter to you to confirm everything.
About Our Company
China Travel Resources
What Our Customers' Say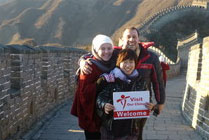 My dad said the whole arrangement was AWESOME!! He was very happy with the trip you arranged. Last but not least, I'm really thankful for all the arrangement and I thank you on behalf of my dad. Great service! Hello there again Gina, So good to hear from you again! My dad said the whole arrangeme...
Read more testimonials...