China tours to Emeishan
Located southwest of Sichuan Province, Emeishan City, which shares a same name (峨眉山) with the famous Emeishan Mountain (Emei Mountain or Mount Emei) in Mandarin Chinese, is situated 130 kilometers southwest of the capital city of Chengdu. The Emei Mountain situated in the Emeishan City is renowned for its rank as the highest of the Four Sacred Buddhist Mountains of China (3,099 metres high) and its nomination as a UNESCO World Heritage Site together with the Leshan Giant Buddha since 1996. Travelers looking for some marvelous hikes will just be satisfied with the landscapes ... More information about Emeishan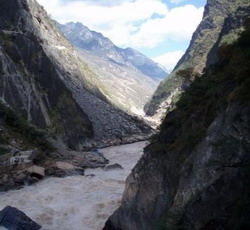 Tour Code:CWHT05
Duration:21 Days
Destinations:Beijing, Chengdu, Dali, Emeishan, Guilin, Hong Kong, Kunming, Leshan, Lijiang, Macao, Xi'an, Yangshuo

Beginning in Beijing, and traveling to south, this China tour will allow you to get close and personal contact with giant pandas, explore breathtaking mountains, pass historic sites, visit imperial palaces and temples, cruise down the picturesque Li River and so much more. This tour allows you to see China in many of its various forms, from the idyllic life of farmers and fishermen, to the fast-paced life of Beijing and Hong Kong residents. You will get to see a side of China often missed by visitors.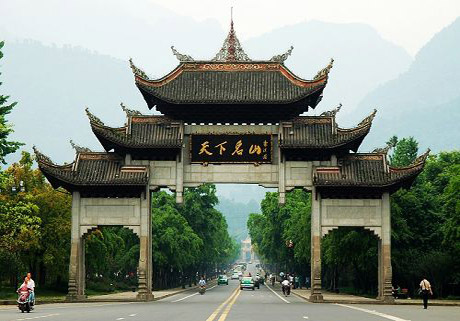 Tour Code:CHTT06
Duration:8 Days
Destinations:Chengdu, Emeishan

Being positioned as one of China's national treasures, giant pandas, which originally live only in Sichuan Province, are very cute and get great attention from home and abroad. In the duration of these 8 days, you will take a good chance to get close to these rare and friendly animals and keep a remarkable and lovely memory. Besides, you can also pay a visit to Mt. Emei (one of Four Famous Buddhist Sacred Mountains) and the reputed the 71 meters high Leshan Giant Buddha, which was chiseled on crag beside water in 713 A.D.... Do this tour and believe that these wonders will be carved on your mind!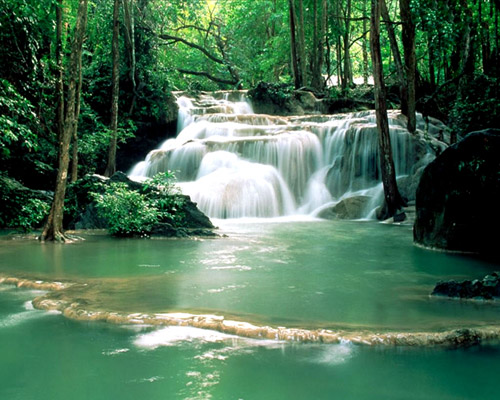 Tour Code:CHTT08
Duration:9 Days
Destinations:Chengdu, Emeishan, Jiuzhaigou

Reputed for its many multi-level waterfalls and colorful lakes, Jizhaigou was declared a UNESCO World Heritage Site in 1992. It belongs to the category V (Protected Landscape) in the IUCN system of protected area categorization; enjoying the names of 'World Wonder' and 'Fairy Land on Earth', Huanglong Scenic and Historic Interest Area is well known for its colorful lakes, snow clad mountains, valleys and virgin forest and was also included in the UNESCO world heritage list in 1992; and Mt. Emei, one of the four famous Buddhist holy mountains in China as well as a renowned scenic spot filled with mysterious atmosphere, is worshiped by many people and popular with tourists all the time...Undoubtedly, you will return from a rewarding journey!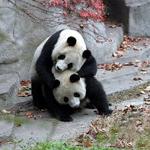 Tour Code:CCT06
Duration:12 Days
Destinations:Beijing, Chengdu, Emeishan, Guilin, Hong Kong, Leshan, Wolong, Yangshuo
China's giant pandas are considered living treasures and are adored by people around the globe. This exciting tour of China showcases these beautiful animals, along with some of the other incredible destinations in China. This tour begins in Beijing, China's capital. After visiting some of Beijing's most incredible sites, you will travel to Leshan, where you will see the Leshan Giant Buddha. You will then travel to Ermei Mountain where you will visit the Monastery of Ten at its summit. In Wolong, you will visit the Wolong Giant Panda Reserve and get up and close to the giant pandas. You will then travel To Guilin, famous for its spectacular landscape. You will finish up in the incredible city of Hong Kong.
Custom Tailoring: Design your own tour with our help to meet your unique interests. You don't have to compromise. Do exactly what you want to do! Let us assist you to tailor-make your own China experience.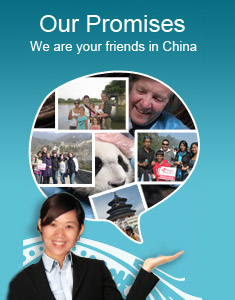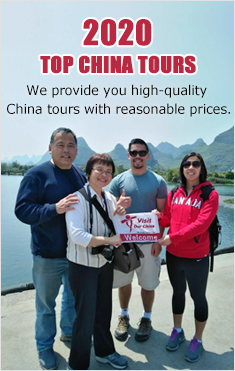 Popular City Tours