Your Position:
Home
VOC's Travel BLOG
VOC's Travel BLOG
Our Travel Blog is where we share our real life travel experiences with you. We also provide information on Chinese culture, Chinese cuisine, and much more. We hope that this information helps you in some way, whether it be in designing a China tour, or just gives you interesting information on a new and exciting place.
2012-02-14 | Life in Guilin | Comments(0) | Views:(289)
At the Yangmeiling (杨梅岭) of Putao (葡萄) Town of Yangshuo County there hides a small stone town with four stone gates, which need 3-4 hours to walk through all of them. Embraced by continuous mountains, this ancient stone town is apparently isolated from the bustling and hustling outside world. Thanks to that, it still looks like an unaffected Shangri-la where the local live a simple and autarkical life and remains a wonderful destination for hiking lovers.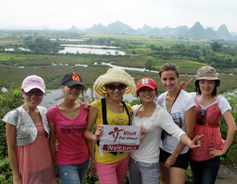 Categories