Your Position:
Home
VOC's Travel BLOG
China Travel Blogs
The China travel blog page of VisitOurChina is where we share our travel experiences with you. In the meantime, we provide you information on Chinese culture, Chinese cuisine, China travel guide and much more. We hope these can help you in some way, whether they are used in designing a China tour, or just give you interesting information on a new and exciting place.
2012-07-23 | China Food | Comments(1) | Views:(483)
In Chinese food, many a dainty is provided with special full-bodied flavor, which is the positive result of fermentation. To transform a raw material to a delicious taste, the intelligent ancestors of Chinese people had created all possible conditions and attempted continuously with their distinctive understanding of food. In the wide stretches of prairie in North China, a kind of fluid tasty nourishes the strong Mongolian herdsmen- it is the Dried Milk Cake transformed from milk.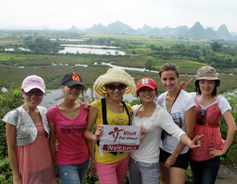 Categories