VOC's Travel BLOG
Our Travel Blog is where we share our real life travel experiences with you. We also provide information on Chinese culture, Chinese cuisine, and much more. We hope that this information helps you in some way, whether it be in designing a China tour, or just gives you interesting information on a new and exciting place.
2011-10-24 | China travel Guide | Comments(0) | Views:(415)
Last Friday I had the privilege of visiting the Tea Science and Research Institute of Guilin, Guangxi (广西桂林茶叶科学研究所). Through a friend of a friend, a couple of my buddies and I were able to spend a beautiful autumn afternoon on a special tour of the Tea Institute's facilities and fields. What's more, as a self-proclaimed tea enthusiast, I was particularly excited for the outing and could not have thought of a better way to enjoy the local scenery and weather.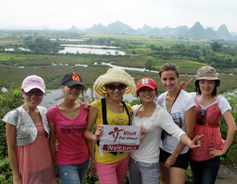 Categories