China Travel Blogs
The China travel blog page of VisitOurChina is where we share our travel experiences with you. In the meantime, we provide you information on Chinese culture, Chinese cuisine, China travel guide and much more. We hope these can help you in some way, whether they are used in designing a China tour, or just give you interesting information on a new and exciting place.
2011-10-19 | China travel Guide | Comments(2) | Views:(765)
Around 11 km apart from the county seat of Yangshuo, the Yulong Bridge Bamboo Rafting Scenic Spot at Yulong Village of Baisha Town, the first and only tourism observation in China set up by the World Travel Organization on July 26, 2005, is also known as the highlight section for bamboo rafting in Yangshuo. Built in 1412, Yulong Bridge is the biggest single-arched bridge in Guangxi Zhuang Autonomous Region and the origin that the name of the picturesque Yulong River comes from.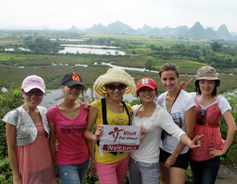 Categories