VOC's Travel BLOG
Our Travel Blog is where we share our real life travel experiences with you. We also provide information on Chinese culture, Chinese cuisine, and much more. We hope that this information helps you in some way, whether it be in designing a China tour, or just gives you interesting information on a new and exciting place.
2011-07-01 | China travel Guide | Comments(0) | Views:(1152)
It all started on one afternoon when, sat on a bench at GXNU (Guangxi Normal University) having a juice with some Costa Rican friends, we decided to move away for the next coming weekend and leave – the though beautiful – Guilin city for one day or so with just a backpack and the unforgettable Lonely Planet guide to have fun. (I extremely recommend that guide, it helped me a lot since I started to travel in China 4 years ago!).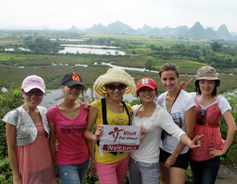 Categories