VOC's Travel BLOG
Our Travel Blog is where we share our real life travel experiences with you. We also provide information on Chinese culture, Chinese cuisine, and much more. We hope that this information helps you in some way, whether it be in designing a China tour, or just gives you interesting information on a new and exciting place.
2011-04-15 | China travel Guide | Comments(2) | Views:(739)
In July 2007, I had the chance to do my first trip to China, and what a trip I had! During one month, I discovered so many things that just made me fall in love with the country and its people: a feeling I can't deny since then. Starting from Zhejiang Province (浙江省), my trip did a long way to the north including the city of Beijing (北京), our last stop-off point before flying back to my country. On our way and after having visited the amazing sprawling city of Shanghai (上海), our bus made a one day stop in the city of Suzhou (苏州). Located in Jiangsu Province (江苏省), Suzhou is one of the most famous tourist destination in China, often holding the surname of "Oriental Venice" as well as water, garden and silk township. Its localization at just a few kilometers away from Shanghai and Hangzhou (杭州) (the three of them form the Scenic Triangle South of the Yangtze River) is the opportunity to have a new vision of China, especially after the big city that has become Shanghai.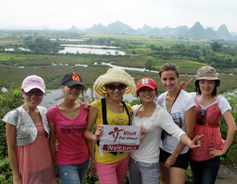 Categories