China Travel Blogs
The China travel blog page of VisitOurChina is where we share our travel experiences with you. In the meantime, we provide you information on Chinese culture, Chinese cuisine, China travel guide and much more. We hope these can help you in some way, whether they are used in designing a China tour, or just give you interesting information on a new and exciting place.
2012-06-20 | China travel Guide | Comments(0) | Views:(553)
Dao Xian, less than 100 kilometers to its neighboring county of Guilin in Guangxi Province, is a small little county of Yongzhou City in Hunan Province. It is not a famous hot spot for tourists, it is not crawling with other travelers, and it isn't extremely beautiful, but man is it a fun place. I spent a lot of time there, mostly because my friend lived there, but also because it was just such a great place to visit every once and a while.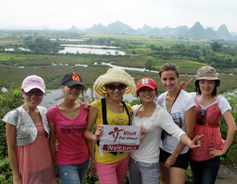 Categories