VOC's Travel BLOG
Our Travel Blog is where we share our real life travel experiences with you. We also provide information on Chinese culture, Chinese cuisine, and much more. We hope that this information helps you in some way, whether it be in designing a China tour, or just gives you interesting information on a new and exciting place.
2011-07-22 | China travel Guide | Comments(2) | Views:(636)
This is a time when all Chinese people go travelling, come back home to see their beloved family and friends or just relax at home. Chinese national holidays are spread all year long at some specific festivals in order to allow people to "hui jia kan kan" (回家看看, literally "come back home and see") and take a break. During the last Qingming Festival (清明节, qing ming Jie) falling on April 5th, one of my French friends and I living in Guilin decided to take the chance to spend these 3 days off to travel in the Guangxi Zhuang Autonomous Region. Place I dreamt off since the last time I was in China but that I never had the time to go for one reason or so, I finally had the chance to go to one of the most magic and beautiful scenic spot of Southern China: Detian Waterfalls (德天瀑布).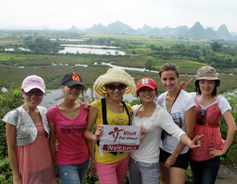 Categories