VOC's Travel BLOG
Our Travel Blog is where we share our real life travel experiences with you. We also provide information on Chinese culture, Chinese cuisine, and much more. We hope that this information helps you in some way, whether it be in designing a China tour, or just gives you interesting information on a new and exciting place.
2012-01-18 | China travel Guide | Comments(1) | Views:(350)
Honestly speaking, wage days are always kept on our mind every month, but sometimes there is more than salary to look forward to, for example, the annual year-end company travel. I'm not sure whether companies abroad will organize a tour for their staff at the end of the year, but it is indeed a tradition for Chinese travel agencies to take a short trip before the Spring Festival (Chinese Lunar New Year), which always falls in January or February. No exception happened and Hong Kong was decided to be our destination this year.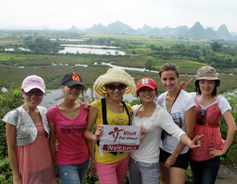 Categories